Figures to go on order online after the July 27th event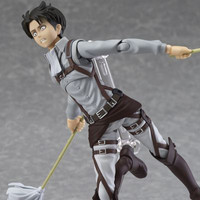 If you're a figure collector, few words strike fear into your wallet like WonFes. Summer WonFes is coming, and Good Smile Company will be there, along with Max Factory, with a handful of exclusives. Good news: the figures will go on order online after the event, so try not to be too jealous of the fans in Japan.
Here's the lineup:
Nendoroid Aircraft Carrier Wo-Class from KanColle not only looks adorable, she lights up. She's going to cost 4,800 yen.
Because the Madoka Magica train can't be stopped, Good Smile has a new Nendoroid Sayaka and Kyouko. These two are made to be displayed together. They're going for 6,000 yen.
Figma Kaga, from KanColle, will sell for 5,000 yen.
As if Figma Cleaning Levi wasn't enough, he comes with extra hair parts for Figma Mikasa to help her get in on the cleaning action. He's set at 4,500 yen.
If you like the adorable gloominess of the Wo-Class Aircraft Carrier, there's another version of her hitting WonFes - a bigger version of the Medicchu. The Dekacchu is over seven inches tall, and will cost 5,000 yen.
Also coming to online sale? Figma Satsubatsu Knight.
Summer WonFes is July 27th. The figures will be orderable from the 27th through August 4th at the Good Smile Online Shop. They're scheduled to ship in November.