Figures due out in November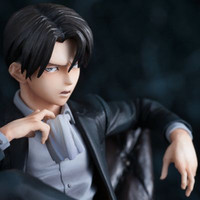 If you're suffering from a lack of Levi smoldering in your life, Union Creative has you covered. Their new figure has a wealth of the Attack on Titan fan favorite's trademark dirty looks and a not-so-small price tag. This is the exclusive DX version. It's due out in November and costs 16,500 yen.
There's a regular, non-DX version that only costs 12,500 yen. The chair gets a nice color upgrade, though it appears to only have one face/pose.
You can pre-order this Levi now, thought the DX version will be an exclusive.