Hi Score Girl anime adaptation still in works, digital sales also halted, magazine serialization to continue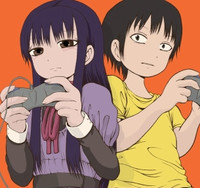 Following recent events, Square-Enix has formally commented on the recent allegations surrounding Hi Score Girl and the criminal infringement complaint levied against it by SNK Playmore. Speaking to both ITMedia and Gadget Tsushin, Square-Enix PR reps confirmed that it was conducting a voluntary recall of all print materials related to the manga, including the companion fanbook. The digital release has also been pulled from sale.
Square-Enix reps further stressed that the recall was not to be taken as an acknowledgement of the allegations as truth, but that it wanted to take the step in light of recent events, while stating that the serialization in Monthly Big Gangan will continue. However, the status of the planned anime adaptation is less clear, as Square Enix initially told ITMedia that the planning and production would continue, while giving a different statement to Gadget Tsushin stating that it did not know definitively whether production would continue or be cancelled.
In an additional statement to ITMedia, SNK Playmore stated that there were no previous discussions or requests from Square-Enix about formally approving the depiction of its characters in the manga, while other companies such as Capcom, Sega and Bandai Namco each confirmed to ITMedia previous contact by the publisher for formal consent to depict their respective characters.
via ANN
---
Humberto Saabedra is the Owner of AnimeNews.biz, Editor-in-Chief of PhoneNews.com and a part-time recording engineer. He can also be found musing on things (and Nico Robin) at @AnimeNewsdotbiz