"Ronia the Robber's Daughter" TV Anime is set for October 11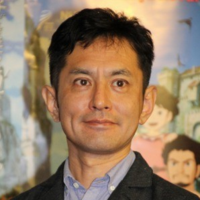 After the preview for his upcoming 3DCG TV anime Ronia the Robber's Daughter at NHK Housou Center in Tokyo yesterday, the director Goro Miyazaki, who was best known as the eldest son of acclaimed anime director Hayao Miyazaki, gave his opinion on Studio Ghibli co-founder Toshio Suzuki's remark last week that Hideaki Anno (the Evangellion series) was the successor to Hayao Miyazaki, not his son Goro.
According to Mantan Web's report, after confessing "Since my father is Hayao Miyazaki, even with my age, I have still been remembering that I am his son," he admitted, "I don't consider myself as an artist. If you want a work with creativity, your choice should be Anno. There is no way that I can be a post-Hayao Miyazaki."
The 3DCG TV anime adaptation of the Swedish author Astrid Lindgren's children's fantasy novel Ronia
the Robber's Daughter (Swedish: Ronja Rövardotter) will premiere on NHK's pay satellite channel BS Premium
at 19:00 on October 11.
Source/photo ©: Mantan Web