Plus "Naruto" and "Bleach" box set release plans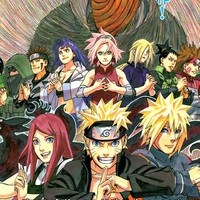 The sixth Naruto Shippuden movie, Road to Ninja, supervised by series creator Masashi Kishimoto and notably featuring mirror versions of the cast designed by the author, hits North American home video today.
The Blu-ray/DVD combo pack is a 2-disc set and will carry an MSRP of $29.99 U.S. / $37.48 CAN. The DVD edition of Road to Ninja is a single-disc release that will carry an MSRP of $19.98 U.S. / $34.98 CAN.
Check out Viz's extended trailer...
In stores today. http://amzn.to/1zHpumj

With rare creative direction from the creator of Naruto, Masashi Kishimoto, this movie has all the fight and heart of the manga.

Long ago, a masked shinobi unleashed the Nine-Tailed Fox onto the Village Hidden in the Leaves to spread chaos and destruction. But the Fourth Hokage, Minato Namikaze, and his wife, Kushina Uzumaki, sealed the Tailed Beast into their newborn son Naruto to save the village, foiling the shinobi's plans.

Years later, Naruto and his friends succeed in driving away the infamous Akatsuki, who have mysteriously returned from the dead. Upon returning to the village, the young shinobi are praised by their families for completing a dangerous mission. Reminded of how alone he is, Naruto begins to wonder what it's like to have parents, when a strange masked figure appears before him - the same masked shinobi responsible for the death of his parents!

Spoken Languages: English, Japanese, English subtitles.

Format: Multiple Formats, Blu-ray, Box set, Dolby, DTS Surround Sound, Full Screen, NTSC, Subtitled
Language: English (DTS 5.1), Japanese (DTS 5.1)
Subtitles: English
Region: Region A/1 (Read more about DVD/Blu-ray formats.)
Aspect Ratio: 1.78:1
Number of discs: 2
Studio: VIZ VIDEO
DVD Release Date: November 25, 2014
Run Time: 102 minutes
Viz also announced plans for the Summer of 2015 release BLEACH Manga Box Set 2 and NARUTO Manga Box Set 2, each contain 20 or more individual manga volumes, at a substantial savings over buying them individually. Exclusive bonus premiums, such as special mini-comics and full-color posters, are also included in each Box Set.

In addition, due to continuing fan demand, BLEACH Manga Box Set 1 and NARUTO Manga Box Set 1 will be available again January 2015. The BLEACH set contains the beginning 21 volumes of the first story arc, and the NARUTO set contains 27 volumes. Both sets are housed in sturdy corrugate display boxes, and also include a full color double-side poster and collectable booklet.


BLEACH MANGA BOX SET 2 • Rated "T" for Teens •
MSRP: $214.99 U.S. / CAN • Available July 2015!
The second BLEACH Manga Box Set offers fans the chance to own Volumes 22-48 at a substantial savings over buying them individually. Fans purchasing the Box Set will also receive an exclusive mini-comic containing the pilot story of the bestselling series along with a full-color, double-sided poster.

Ichigo Kurosaki never asked for the ability to see ghosts--he was born with the gift. When his family is attacked by a Hollow--a malevolent lost soul--Ichigo becomes a Soul Reaper, dedicating his life to protecting the innocent and helping the tortured spirits themselves find peace. In the latest Box Set volumes, after finally rescuing their friend Rukia, Ichigo and friends return to their quiet lives in the world of the living. However, the peace is short-lived as new enemies arrive from the world of the Hollows. Aizen is back, and Ichigo may be the only one who can stop him for good!


NARUTO MANGA BOX SET 2 • Rated "T" for Teens •
MSRP: $174.99 U.S. / CAN • Available July 2015!
Naruto is a young shinobi with an incorrigible knack for mischief. He's got a wild sense of humor, but Naruto is completely serious about his mission to be the world's greatest ninja! In the second NARUTO Manga Box Set, featuring Volumes 28-48, it's been more than two years since Naruto left to train with Jiraiya. Much has happened while he has been away, and new threats to the ninja world have emerged. Can Naruto prove his worth and rescue his friend Sasuke? The new box set also will feature an exclusive mini-comic containing the NARUTO pilot story and a full-color, double-sided poster.


-----
Scott Green is editor and reporter for anime and manga at geek entertainment site Ain't It Cool News. Follow him on Twitter at @aicnanime.