Ten to be exact, including Tokyo Mew Mew!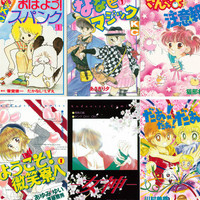 Several classic shoujo series are about to get their very own reprints, thanks to the Nakayoshi 60th Anniversary Masterpiece General Election contest, where readers were asked to chose their favorite masterpiece series from a long list of series that previously ran in the magazine.
After the initial contest ran, it was decided that special reprints of the top 10 works would be published, starting in July all the way up until December. They include Azuki-chan, Ohayo! Spank, Kingyo Chuiho!, Jigoku de Mes ga Hikaru, Da! Da! Da!, Tokyo Mew Mew, Nana Iro Magic, Miracle Girls, Megami, and Yokoso! Hohoemi Ryo e.
If you're a shoujo fan, this is truly awesome news! Are you going to want to pick up any of the reprints?
[via Anime News Network]
-------
Fueled by horror, rainbow-sugar-pixel-rushes, and video games, Brittany is a freelancer who thrives on surrealism and ultraviolence. Follow her on Twitter @MolotovCupcake and check out her portfolio for more.