Some of us are doing well to just get our nails painted one uniform color!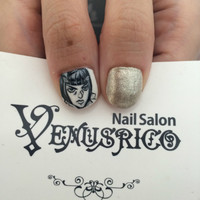 Not long ago we detailed some extremely impressive nail art from nail shops in Japan that have some ridiculously dedicated artists who provide "ita-neiru," or nails that appeal to otaku like all of us here!

A reporter from RocketNews24 recently went and had a manicure at the VenusRico salon in Akihabara, and the results were absolutely stunning. She also demonstrated some other awesome designs that might well make you decide you need to make a trip to the nail salon.

Check them out and see if your nail artist can match this type of talent! We're willing to be they'll pale in comparison.
[via RocketNews24]
-------
Fueled by horror, rainbow-sugar-pixel-rushes, and video games, Brittany is a freelancer who thrives on surrealism and ultraviolence. Follow her on Twitter @MolotovCupcake and check out her portfolio for more.