Next musical show is slated for this fall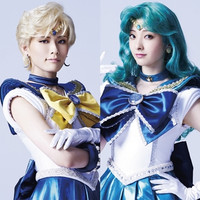 The official YouTube channel for the Sailor Moon franchise has posted a 90-second new preview for the upcoming DVD "Pretty Soldier Sailor Moon Musical -Un Nouveau Voyage-," featuring two of the soldiers of the outer solar system, Sailor Uranus and Sailor Neptune.
The 2015 musical was performed at AiiA 2.5 Theater Tokyo from September 18 to 27 and at Osaka Sankei Hall Breeze from October 2 to 4. The 7,800-yen DVD is set for a release on February 24. A release commemoration event will be held at the Noco Nico headquarters in Ikebukuro, Tokyo, on February 28. The past cast members of the five sailor soldiers: Satomi Okubo (Sailor Moon), Momoyo Koyama (Sailor Mercury), Kanon Nanaki (Sailor Mars), Yu Takahashi (Sailor Jupiter), and Shiori Sakata (Sailor Venus), are scheduled to join for a talk show.
2nd preview
1st preview
DVD jacket
Source: Sailor Moon 20th anniversary project official website
© Naoko Takeuchi
© Naoko Takeuchi, PNP/Kodansha, Nelke Planning, Dwango