"This Art Club Has a Problem!" ED song CD will be available tomorrow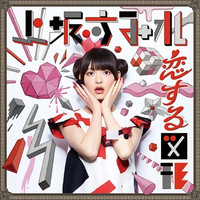 King Records has posted a full version musci video for 24-year-old anime voice actress Sumire Uesaka's 7th solo single "Koisuru Zukei (cubic futurismo)" on its official YouTube channel. The song has been featured as the ED theme for the ongoing TV anime Kono Bijutsubu ni wa Mondai ga Aru!/This Art Club Has a Problem!, in which she is also cast as Colette, the yougest member at the art club. The two-edition CD single will be avialable at Japanese stores from tomorrow, August 3.
Official description:
For the best viewing experience, please watch on smartphone.
This music video consists of hundreds of short clips, whch were uploaded on Instagram (https://www.instagram.com/sumire_uesaka/) since July 11.
With clips shown in a vertical position, it is made specifically for viewing on smartphone.
Limited edition CD jacket
Regular edition
Artist photo
Source: Sumire Uesaka official website
© Copyright King Record.Co.,Ltd. All Rights Reserved.