Volume 18 of series announces plans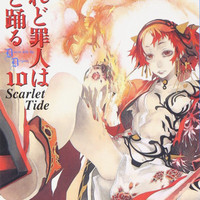 Volume 18 of Asai Labo and Miyagi's fantasy light novel series Saredo Tsumibito wa Ryuu to Odoru -Dances with the Dragons, out in Japan August 18th, is announcing plans for an anime adaptation. The series was adapted into a one-volume manga with Yaku Haibara that ran in 2006 in Beans Ace.
確認した。『されど罪人は竜と踊る』アニメ化企画進行中。帯でなくてガ報で見ることになったが。それにしてもされ竜アニメ化ってどーすんだ… pic.twitter.com/gHJ3tHXAX4

— (@NoBookNoLife) August 17, 2016
The Light Novel Database explains
The series takes place in an alternate world, staged mostly in the city of Eridana, whose territory is half in the Tseberun Dragon Empire, and half in the Lapetodes Seven Cities Alliance. Each half is separated by the Orielal River. In this world, special abilities called spell formulas exist, which are essentially chemical reactions augmented through special weapons that cause a magic spell-like effect. These special weapons are called Magic Staff weapons, and are as varied as regular weapons are. Spell formulists use these spell formulas to fight with "Beasts of Abhorrent Form," natural creatures that use spell formulas and pose a threat to humans, such as Dragons, Aions, or Enormes.

The story focuses on the two main characters, Gaius Sorel and Gigina Ashley-Bufh, the only two employees of Spell Formulist dispatch office Ashley-Bufh & Sorel Co. They are met with a variety of requests from a variety of clients, all requiring the adept use of spell formulas.

The series was once published under Kadowkawa's Sneaker Bunko label, but due to unknown circumstances, the series switched publishers to Shogakukan and saw new releases under their Gagaga Bunko label. Volumes 1 and 2 are edited and enhanced versions of volume 1 and 2 of the Sneaker Bunko editions, but from volume 3 onward the series has been entirely rewritten, though main story arcs remain intact. Both editions feature illustrations by Miyagi, with the Gagaga Bunko editions featuring completely new color and black-and-white illustrations.
------
Scott Green is editor and reporter for anime and manga at geek entertainment site Ain't It Cool News. Follow him on Twitter at @aicnanime.