Theater pamphlet's second edition will be available in early December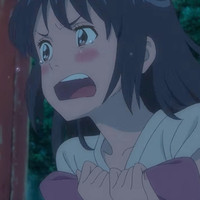 Death Note Light up the NEW world, the highly anticipated sequel to the two live-action films in 2006, finally took first place from the nine-time weekend box office winner in Japan, Makoto Shinkai's record-breaking anime film Kimi no Na wa./your name. The new Death Note film directed by Shinsuke Sato (GANTZ, Library Wars) was released on 341 screens across Japan on October 29, while Kimi no Na wa. still had 296 screens in its 10th weekend. It earned 458,645,800 yen on 342,309 admissions in its first weekend, which was 60.3% of the second film Death Note The Last Name.
By October 25, Kimi no Na wa. had earned a massive 16.5 billion yen from the 12.7 million ticket sales. Distributor expects there is a high possibility that the film will reach the historical 20 billion yen mark by the end of its domestic run and will become (at least) the fifth top-grossing film in the Japanese box office history, surpassing Hayao Miyazaki's Princess Mononoke (1997/19.3 billion) and Howl's Moving Castle (2004/19.6 billion).
Weekend box office in Japan (October 29-30)
1 (new). "Death Note Light up the NEW world"
2 (1). "Kimi no na Wa./your name."
3 (new). "Inferno"
4 (new). "Maho Girls PreCure! The Movie: Miracle Transformation! Cure Mofurun!"
5 (3). "Nanimono"
6 (new). "Bridget Jones's Baby"
7 (2). "Yamikin Ushijima-kun The Final"
8 (5). "Kinmedal Otoko"
9 (4). "Star Trek Beyond"
10 (8). "Koe no Katachi"
All-Time Box Office Top 10 in Japan (Japanese & foreign films combined):
1. "Spirited Away" (2001/30.8 billion yen)
2. "Titanic" (1998/26.2 billion)
3. "Frozen" (2014/25.48 billion)
4. "Harry Potter And The Sorcerer's Stone" (2001/20.3 billion)
5. "Howl's Moving Castle" (2004/19.6 billion)
6. "Princess Mononoke" (1997/19.3 billion)
7. "Bayside Shakedown 2" (2003/17.35 billion)
8. "Harry Potter And The Chamber Of Secrets" (2002/17.3 billion)
9. "your name." (2016/16.5 billion)
10. "Avator" (2010/15.6 billion)
"Death Note Light up the NEW world" trailer
Source: Eiga.com