Superfans, make sure you snap up this version!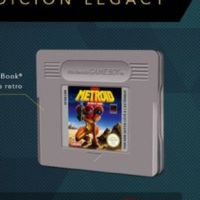 Metroid: Samus Returns is getting a collector's edition in North America, but it truly pales in comparison to what Europe is getting. In fact, it's a low-down, dirty shame.
The North American version comes with a music CD, but the European version comes with that, an artbook, a collectible coin, and even a SteelBook case shaped like a Game Boy cartridge!
It's certainly a DS collector's edition that you'll want to snap up before it's all gone, especially if you live in Europe.
Metroid: Samus Returns is slated for release on September 15. Go back and get ready for the game by playing the Game Boy original Metroid II: Return of Samus!
[via Destructoid]
-------
Fueled by horror, rainbow-sugar-pixel-rushes, and video games, Brittany is a freelancer who thrives on surrealism and ultraviolence. Follow her on Twitter @MolotovCupcake and check out her portfolio for more.