"Blood Blockade Battlefront & Beyond" and Season 2 of "Love Live! Sunshine!! 2nd Season" also added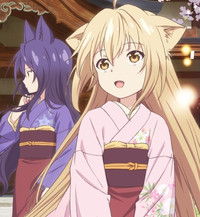 The fall season of anime is shaping up to be a bumper crop this year as Crunchyroll today announces a slew of new series that it will share streaming duties with in tandem with Funimation.
Final confirmations on launch dates, times, and regions are still pending, but stay tuned to Crunchyroll for updates as they come in. For now, read on for more info about "Blood Blockade Battlefront & Beyond" "A Sister's All You Need", "King's Game", "KONOHANA KITAN", "Code: Realize ~Guardian of Rebirth~", "Anime-Gataris" and "Love Live! Sunshine!! 2nd Season"!
A Sister's All You Need
The series follows Itsuki Hashima, an author whose life is complicated by deranged friends and colleagues, including an over-sexed fellow author / would-be lover and a sadistic tax accountant. The only stable person in Itsuki's life is his younger step-brother, Chihiro, but even Chihiro has a secret..."he" is actually a girl in disguise.
---
King's Game
Kanazawa Nobuaki has transferred to a high school far from where he used to live. Due to an incident at his old school, Nobuaki is afraid of getting close to his new classmates and keeps himself at a distance, but he starts opening up because of a sports day inter-class relay. Then, a single text message from someone calling themselves the "King" is sent to everyone in class. Nobuaki's classmates think it's a simple prank, and don't take it seriously--but Nobuaki knows that a death game is about to begin, and struggles to oppose it...
---
KONOHANA KITAN
Konohana Kitan is the heartwarming story of a new apprentice named Yuzu, and the other fox girls who work at a hot spring hotel called Konohatei. The staff at Konohatei live by one belief: no matter who one may truly be, no matter what, anyone who is a guest is a god. Of course, that includes you. Let the hospitality of Yuzu and the Konohatei heal your tired soul.
---
Code: Realize ~Guardian of Rebirth~
I want you to touch me. I want to feel your warmth. Claudia is a girl who possesses a toxin that melts everything she touches. Feared as a monster, she spent her days in isolation. One night, just as she is about to be captured by the British army, she meets a man who calls himself the gentleman thief, Arsène Lupin. She arrives at London, where she meets many people and experiences many things. In her adventures with Lupin, she comes close to discovering the truth about her body and her missing memories. What is the truth that this so-called "monster" of a girl finds?
---
Anime-Gataris
Just as soon as she enters Sakaneko Private High School, Asagadani Minoa is dragged into the anime club by her classmate, Kamiigusa Arisu, even though she knows next to nothing about anime. A classmate, Kouenji Miko, along with other anime-loving senpais, quickly turn her into an anime fan. Fighting off the incessant shut-down threats of the student council, and completely oblivious to the coming apocalypse, the anime club talks about anime in the club, at Akihabara, at anime Meccas, and at hot springs.
---
Blood Blockade Battlefront & Beyond
After a breach between Earth and the netherworld opens up over New York, humans and creatures from other dimensions become trapped in an impenetrable bubble that surrounds the city. Forced to coexist in a new city known as Salem's Lot, the shaky peace between humanity and the netherworld creatures is protected by an underground group of super humans known as Libra.
---
Love Live! Sunshine!! 2nd Season
Uranohoshi Girls' High School, a private school in the seaside neighborhood of Uchiura at Numazu city, Shizuoka prefecture. A small high school in a corner of Suruga Bay, it is home to nine teens, led by second-year student Chika Takami, driven by one seriously big dream: To become the next generation of bright, sparkling "school idols"! As long as we don't give up, any dream can come true... All we have to do now is keep pushing hard for glory! Now their "School Idol Project" begins to make their dreams come true!
---
Patrick Macias is editor in chief of Crunchyroll News & Otaku USA magazine. He is currently serializing his latest writing project, PARANOIA GIRLS, on Wattpad.