Still no plans for a home video release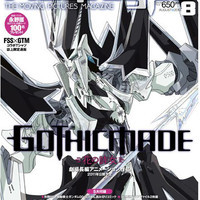 On November 1, 2012, Five Star Stories' Mamoru Nagano and his distinctive brand of elegantly designed mecha epic returned in anime movie Hana no Utame Gothicmade. It's now five years later and Nagano still isn't interested in putting it on home video, which helps explain why an anniversary screening on November 5th at Toho Cinemas Uneo sold out in minutes. Nagano gave a talk at the event, accompanied by his wife and the movie's star, Maria Kawamura (Slayers' Naga) and male lead Nozomu Sasaki (Yuyu Hakusho's Yusuke Urameshi).
While Nagano repeated that there were no plans for a DVD release of the film, a 42cm protoype of a Volks mecha figure was displayed (price and release date are TBA), along with Five Star Stories x Kutaniyaki collaboration plates (75,000yen) and dishes (2500yen-3500yen).
Nagano was producer, director, chief writer, character and mechanical designer for Gothicmade. Previously, he worked on mecha design for Zeta Gundam and L Gaim. He's also designed Anna Williams costumes for Tekken.
ゴティックメードもう五年前なんですね…

公開初日に観た時の感動は今でも忘れない…

ときこは鈍いのでカイゼリンの戦闘シーンまでファイブスター物語だと気づかなくて、動くGTMを見て気づいてからはエンディングまで鳥肌立ちっぱなしでした…#ゴティックメード5周年#FSS_jp pic.twitter.com/4ycmaEdp9S

— TOKIKO@超帝國剣聖 (@mx_tokiko) November 3, 2017
via Mantab Web and Dengeki Hobby

------
Follow on Twitter at @aicnanime