Makoto Shinkai: "I hope people easily enjoy it in the mood of New Year."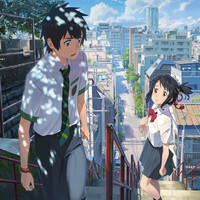 It is officially announced today that Makoto Shinkai's mega hit anime film Kimi no Na wa./Your Name. will be broadcast terrestrially for the first time on TV Asahi's 24 stations in Japan at 21:00 on January 3, 2018 (JST). Whether it will be aired without any editing is not confirmed (When the station aired Shin Godzilla for the first time last month, some scenes were reportedly removed, including the one featuring Keisuke Koide, who has been suspended from activities due to inadequate relationship with a minor).
The 107-minute youth sci-fi film was released in Japan on August 26, 2016, and earned a gigantic 25 billion yen from its domestic run, becoming the second top-grossing film in the Japanese cinema history. A Hollywood live-action remake has been also underway.
Director Shinkai says, "When I was a child, I was really looking forward to movies aired on TV and there
were a lot of things that I could only know from them. In that kind of meaning, now I am able to offer the
things I received in my childhood to the people in the different generations, so I have a happy feeling that
I finally became an adult."
He also posted a comment on his official Twitter: "This is the first terrestrial broadcast for 'Your Name.'
I hope people easily enjoy it in the mood of New Year."
映画『君の名は。』地上波初放送です。お正月気分で気軽に楽しんでいただけますように。

<君の名は。>来年1月3日に地上波初放送 新海誠監督「少し緊張も感じます」(まんたんウェブ) - Yahoo!ニュース https://t.co/GT9ClQgbvw @YahooNewsTopics

— 新海誠 (@shinkaimakoto) 2017年12月7日
Source: "Your Name." official website, Makoto Shinkai Twitter