U.S. and Canada screenings starting January 19, 2018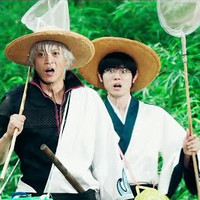 L.A. based film distribution company, Azoland Pictures has announced that they will partner with Well Go USA to release the Gintama live-action film in theaters across the U.S. and Canada starting January 19, 2018.
Ticket sales for participating theaters will begin today on the Azoland Pictures website :
http://www.azolandpictures.com/
They describe the movie
Based on the best-selling action comedy manga by Hideaki Sorachi, GINTAMA takes place in an alternate Edo-period Japan, where an Alien race has taken control, forcing Samurai to lay down their swords. Once feared as the "White Demon," former samurai Gintoki Sakata now works as an everyday handyman – until a master swordsman tasks Gintoki and his friends with finding the cursed sword Benizakura to keep it from falling into the wrong hands. Packed with the sword-swinging sci-fi action and offbeat humor that have made the manga a classic, GINTAMA is bound to delight both fans and anyone looking for a journey to a visually-stunning universe where fantastical action lurks just around every corner.
The action comedy film directed by Yuichi Fukuda (HK: Forbidden Super Hero) is a live-action adaptation of a popular manga series created by author Hideaki Sorachi, which is currently serialized in Shueisha's Weekly Shonen Jump Magazine and has sold over 51 million copies worldwide. The film premiered in Japan this past July, where it earned a total of 3.84 billion yen (approximately 34 million U.S. dollars) and was the top-grossing live-action film of this summer, beating out other major film franchises. GINTAMA features an all-star cast including Shun Oguri (Space Pirate Captain Harlock [voice], Lupin the 3rd) playing Gintoki Sakata, Kanna Hashimoto (Assassination Classroom), as Kagura, Masaki Suda (Death Note: Light Up the New World) as Shinpachi Shimura, and Tsuyoshi Domoto (member of popular Japanese idol group KinkiKids) as Shinsuke Takasugi. The main theme song, "DECIDED," is sung by the popular Japanese rock band UVERworld. The film will be featured in theaters in the original Japanese audio with English subtitles.
The film has also seen great success across Asia including Taiwan, Singapore, Vietnam, and Thailand. In China, GINTAMA was the most featured Japanese live-action film to date, screening in over 8,000 theaters across the country and earning over $9 million U.S. dollars on its opening weekend.
Staff
Director: Yuichi Fukuda
Screenplay: Yuichi Fukuda
Cinematography: Tetsuya Kudo
Production Design: Noriyoshi Ikeya
Costume Design: Kazuhiro Sawataishi
Cast:
Gintoki Sakata: Shun Oguri
Shinpachi Shimura: Masaki Suda
Kagura: Kanna Hashimoto
Kotaro Katsura: Masaki Okada
Tae Shimura: Masami Nagasawa
Gengai Hiraga: Murotsuyoshi
Isao Kondo: Kankuro Nakamura
Toshiro Hijikata: Yuya Yagira
Sogo Okita: Ryo Yoshizawa
Testuya Murata: Ken Yasuda
Tetsuko Murata: Akari Hayami
Nizo Okada: Hirofumi Arai
Henpeita Takechi: Jiro Sato
Matako Kijima: Nanao
Shinsuke Takasugi: Tsuyoshi Domoto