Territories and start dates TBA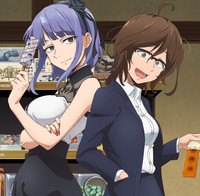 'Tis the season for giving, for sharing, and for… announcing new anime coming soon to Crunchyroll! Today's winter twofer includes KARAKAI JOZU NO TAKAGI-SAN and Dagashi Kashi 2.
Right now, we only have the announcement for you… no start date, regions, or times just yet… but that info should be forthcoming soon.
Also, Crunchyroll will be sharing these titles with our pals at Funimation, so watched subbed or dubbed as you prefer when they arrive.
---
KARAKAI JOZU NO TAKAGI-SAN
"I swear I'm going to tease and embarrass Takagi-san today!"
Nishikata, a middle-schooler, keeps getting teased by the girl who sits next to him in class, Takagi-san.
He tries every day to get back at her, but will he ever succeed? Takagi-san and Nishikata's youthful teasing battle starts now!
---
Dagashi Kashi 2
In the second season of Dagashi Kashi, the story follows Kokonotsu, who does not want to inherit his family's rural candy store as his father wishes. A girl named Hotaru, who's crazy about small-time candy stores, appears at the store and repeatedly visits in order to convince him to take it over.
---
Patrick Macias is the Original Story author of the URAHARA anime, now streaming on Crunchyroll.