OVA goes live starting at 3AM PDT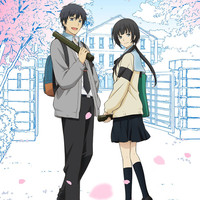 Crunchyroll is excited to announce the addition of the four episode ReLife OVA to its simulcast catalog. Originally announced earlier this year as a Japanese home video release, the four episodes follow the 2016 TV anime adaptation and serve as the conclusion to the series. The OVA will launch later this morning, March 21st at 3AM PDT with Episode 14 and subsequent episodes following shortly thereafter.
Arata Kaizaki (27) quit the job he landed after graduation in only three months. His life did not go well after that. Now his parents are threatening to stop sending money, and want him to come back to the country. He has no friend or girlfriend to share his troubles with...as he hits rock bottom a strange man named Ryo Yoake appears. Yoake invites Kaizaki to join a societal rehabilitation program for NEETs called ReLife. This program uses a mysterious drug to make him look younger, and sends him back to high school for a year...
The OVA episodes will be available to Crunchyroll members worldwide excluding Japan, China, North and South Korea and Syria.