Bleach's opening weekend gross is worse than the 2017 box office bomb JoJo's Bizarre Adventure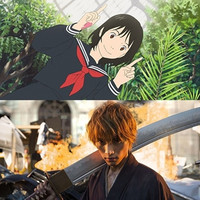 Mamoru Hosoda (The Girl Who Leapt Through Time, Summer Wars)'s latest feature film based on his own original screenplay, Mirai no Mirai/Mirai of The Future/MIRAI was released in 367 theaters (456 screens) across Japan on July 20, and earned a not-so-impressive 400 million yen on 295,000 admissions in its first Saturday and Sunday. It was a huge 40% drop from that of Hosoda's previous film The Boy and the Beast in 2015.
While The Boy made 667 million yen in its first two days, MIRAI's Friday through Sunday total was about 500 million yen. For a new film by the internationally acclaimed anime director, the opening weekend result was far below expectations.
Another big disappointment of the weekend was the live-action film adaptation of Tite Kubo's internationally popular shonen action manga Bleach, starring 25-year-old Souta Fukushi (Kamen Rider
Fourze). The Shinsuke Sato (GANTZ, Death Note: Light Up the New World)-directed film was released
in 328 theaters last Friday, but earned a very poor 135 million yen from the 99,000 ticket sales in its
first Saturday and Sunday (177 million yen in three days total), which was worse than that of Takashi
Miike's box office disaster JoJo's Bizarre Adventure: Diamond Is Unbreakable Chapter I just one year ago.
Judging from its very weak opening, it seems difficult for Bleach to even reach the one billion yen mark
in Japan (Miike's Jojo live-action film made 920 million yen from its total domestic run).
In Pia's first day satisfaction ranking, Bleach ranked only 6th, while MIRAI was in 4th.
---
Weekend box office in Japan (July 21-22, 2018)
(ticket sales basis)
1 (1). "Jurassic World: Fallen Kingdom"
2 (new). "MIRAI"
3 (2). "Pokémon the Movie: Everyone's Story"
4 (new). "Bleach"
5 (3). "Solo: A Star Wars Story"
6 (4). "Manbiki Kazoku"
7 (5). "Soratobu Tire"
8 (6). "Nijiiro Days"
9 (7). "Soreike! Anpanman: Kagayake! Kurun to Inochi no Hoshi"
10 (8). "Detective Conan: Zero the Enforcer"
"MIRAI" Trailer
"Bleach" trailer
Source: Eiga.com, Oricon News
© 2018 Studio Chizu
©Tite Kubo/Shueisha
©2018 "Bleach" Film Partners