Ex-idol group SMAP member Goro Inagaki Join the voice cast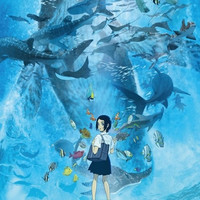 The official Twitter for the forthcoming anime film adaptation of Daisuke Igarashi's award-winning fantasy manga Kaiju no Kodomo/Children of the Sea has posted its main poster visual with a tagline: "The most important promise is not be exchanged in words."
映画『海獣の子供』ポスタービジュアル解禁しました!

《一番大切な約束は、言葉では交わさない》#海獣の子供 pic.twitter.com/nTRObVdiLp

— 映画『海獣の子供』公式 (@kaiju_no_kodomo) 2019年3月12日
In addition to the previously announced three, four more voice cast are also confirmed.
Masaaki Azumi (the protagonist Ruka's farther): Goro Inagaki (ex-member of idol group SMAP)
Kanako Azumi (Ruka's mother): Yu Aoi (Onee-san in Penguin Highway)
Sensei: (Handball club teacher at Ruka's school): Toru Watanabe
Dede (mysterious person who observes Sora and Umi): Sumiko Fuji (Sakae Jinnouchi in Summer Wars)
映画『海獣の子供』追加キャスト決定!芦田愛菜さん演じる主人公琉花の両親役に稲垣吾郎さん @ingkgrofficial &蒼井優さん、琉花の学校の先生役に渡辺徹さん、世界中の海を航海する不思議な人物・デデ役に富司純子さんら豪華キャストが決定しました! #海獣の子供 #稲垣吾郎 #蒼井優 #渡辺徹 #富司純子 pic.twitter.com/c1OmRZUzvD

— 映画『海獣の子供』公式 (@kaiju_no_kodomo) 2019年3月12日
Previously announced three:
Ruka Azumi: Mana Ashida (14/Mako Mori in her childhood in Pacific Rim)
Sora: Hiiro Ishibashi (14/Muguel in Coco Japanese dub)
Umi: Airu Kubozuka (16/actor Yosuke Kubozuka's son, his first voice acting role)
映画『海獣の子供』 キャスト決定! 主人公「琉花」に芦田愛菜さん、ジュゴンに育てられた不思議な兄弟の「海」に石橋陽彩さん @HIIRO_ISHIBASHI 、「空」に窪塚愛流さんが決定しました!皆さんからのコメントも到着!!
⇒https://t.co/LDzfXSInJc #海獣の子供 pic.twitter.com/zAcBSNaF0R

— 映画『海獣の子供』公式 (@kaiju_no_kodomo) 2019年2月27日
---
52-year-old Ayumu Watanabe (After the Rain, Gurazeni) is confirmed to serve as director at Studio 4°C
(Tekkonkinkreet, Berserk: Golden Age Arc), alongside character designer/chief animation director Keinichi
Konishi (Tokyo Godfathers, A Good Librarian Like a Good Shepherd). Internationally renowned composer
Joe Hisaishi (Hayao Miyazaki, Takeshi Kitano films) provides soundtrack music.
The film's release date in Japan is set for June 7, 2019.
Teaser trailer
---
Source: "Children of the Sea" anine film official website / Twitter
© KaijunoKodomo Committee
© Daisuke Igarashi/Shogakukan