The results will be revealed in a live-broadcasting program on September 14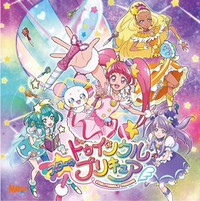 Following the previous two for the Gundam franchise in April 2018 and the Macross in May 2019, NHK, Japan's national public broadcasting station, has launched the official website for a new national online poll project "All PreCure Mega-Poll" to decide the most popular PreCure series, PreCure girl, non-PreCure character, and song.
Fans of Toei Animation's 16-year-old magical girl anime franchise will be able to vote for their favorite ones between July 12 and August 31 at 23:59 (JST). The project site now lists 42 titles (including films), 60 PreCure girls, about 900 non-PreCure characters (Ayumi Sakagami/Cure Echo is included in this category...), and about 150 songs.
The results will be revealed in a special live-broadcasting program to be aired on NHK BS Premium at 21:000-23:30 and 23:45-24:45 on September 14, 2019 (JST). In addition, a special program "Rekishi Hiwa (Secret stories in the history) Precure Historia" to introduce the 16-year history of the PreCure franchise will be aired on August 10 and 16, the interim report of the poll will be also revealed in the program.
プリキュア16年の歴史を映像で振り返りながらその魅力をひもとく「歴史秘話プリキュアヒストリア」は8月にBSプレミアムとEテレで放送予定です。

視聴者投票の結果は9月14日に3時間半にわたって生放送でお届けします!https://t.co/dGGZPgTR3b #全プリキュア #precure

— NHKアニメ (@nhk_animeworld) 2019年7月12日
---
The PreCure series began with its first TV series Futari wa PreCure in February 2004, and the latest 16th series Star☆Twinkle PreCure has been aired in Japan since February of this year. It has had 60 PreCure girls in toatl as listed below:
"Futari wa PreCure" (2004-2005)/"Futari wa PreCure Max Heart" (2005-2006)
1. Cure Black (Yoko Honna)
2. Cure White (Yukana)
"Futari wa PreCure Max Heart" (2005-2006)
3. Shiny Luminous (Rie Tanaka)
"Furtari wa PreCure Splash Star" (2006-2007)
4. Cure Bloom/Cure Bright (Orie Kimoto)
5. Cure Egret/Cure Windy (Atsuko Enomoto)
"Yes! PreCure 5" (2007-2008)/ "Yes! PreCure 5 GoGo!" (2008-2009)
6. Cure Dream (Yuko Sanpei)
7. Cure Rouge (Junko Takeuchi)
8. Cure Lemonade (Mariya Ise)
9. Cure Mint (Ai Nagano)
10. Cure Aqua (Ai Maeda)
"Yes! PreCure 5 GoGo!" (2008-2009)
11. Milky Rose (Eri Sendai)
"Fresh PreCure!" (2009-2010)
12. Cure Peach (Kanae Oki)
13. Cure Berry (Eri Kitamura)
14. Cure Pine (Akiko Nakagawa)
15. Cure Passion (Yuka Komatsu)
"HeartCatch PreCure!" (2010-2011)
16. Cure Blossom (Nana Mizuki)
17. Cure Marine (Fumie Mizusawa)
18. Cure Sunshine (Houko Kuwashima)
19. Cure Moonlight (Aya Hisakawa)
"Suite Pretty Cure♪" (2012-2012)
20. Cure Melody (Ami Koshimizu)
21. Cure Rhythm (Fumiko Orikasa)
22. Cure Beat (Megumi Toyoguchi)
23. Cure Muse (Rumi Ohkubo)
"Smile PreCure!" (2012-2013)
24. Cure Happy (Misato Fukuen)
25. Cure Sunny (Asami Tano)
26. Cure Peace (Hisako Kanemoto)
27. Cure March (Marina Inoue)
28. Cure Beauty (Chinami Nishimura)
"Dokidoki! PreCure" (2013-2014)
29. Cure Heart (Hitomi Nabatame)
30. Cure Diamond (Minako Kotobuki)
31. Cure Rosetta (Mai Fuchigami)
32. Cure Sword (Kanako Miyamoto)
33. Cure Ace (Rie Kugimiya)
"HappinessCharge PreCure!" (2014-2015)
34. Cure Lovely (Megumi Nakajima)
35. Cure Princess (Megumi Han)
36. Cure Honey (Rina Kitagawa)
37. Cure Fortune (Haruka Tomatsu)
"Go! Princess PreCure" (2105-2016)
38. Cure Flora (Yu Shimamura)
39. Cure Mermaid (Masumi Asano)
40. Cure Twinkle (Hibiku Yamamura)
41. Cure Scarlet (Miyuki Sawashiro)
"Maho Girls PreCure!" (2016-2017)
42. Cure Miracle (Rie Takahashi)
43. Cure Magical (Yui Horie)
44. Cure Felice (Saori Hayami)
"Kirakira PreCure a la Mode" (2017-2018)
45. Cure Whip (Karen Miyama)
46. Cure Custard (Haruka Fukuhara)
47. Cure Gelato (Tomo Muranaka)
48. Cure Macaron (Saki Fujita)
49. Cure Chocolat (Nanako Mori)
50. Cure Parfait (Inori Minase)
"Hugtto! PreCure" (2018-2019)
51. Cure Yell (Rie Hikisaka)
52. Cure Ange (Rina Hon'izumi)
53. Cure Etoile (Yui Ogura)
54. Cure Macherie (Nao Tamura)
55. Cure Amour (Yukari Tamura)
"Star☆Twinkle PreCure" (2019-)
56. Cure Star (Eimi Naruse)
57. Cure Milky (Konomi Kohara)
58. Cure Soleil (Kiyono Yasuno)
59. Cure Selene (Mikako Komatsu)
60."Cure Cosmo (Sumire Uesaka)
---
Source: NHK
(C)ABC-A/Toei Animation