Holiday-themed characters, stories, and a new way to unlock your characters' full potential!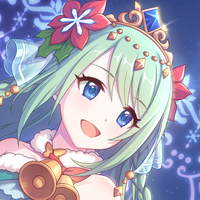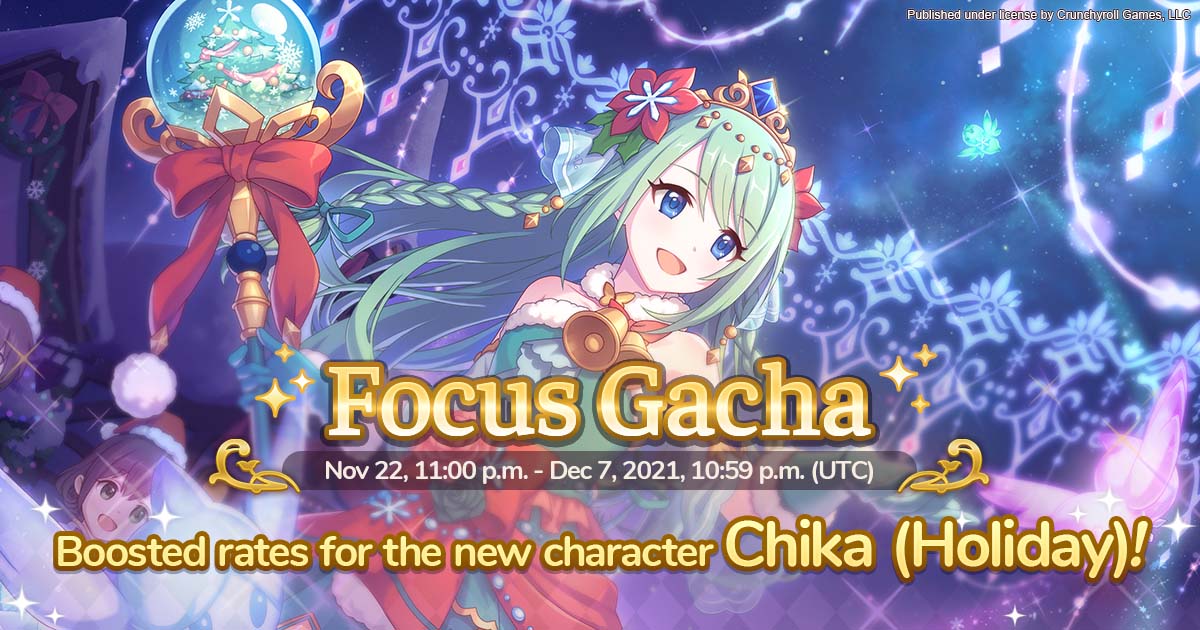 Heyas, Knights! As you might have predicted, we like to celebrate holidays a bit ahead of schedule here. But there's a good reason for it - we've got so much planned for the exciting winter holiday season that we have to get started early! With the holidays right around the corner, let's spruce things up with info on all the jolly festivities awaiting you in the coming weeks.
Our holiday-themed festivities kick off with a brand new Focus Gacha, featuring the one and only Chika (Holiday)! Equipped with powerful support skills that spread the good cheer with buffs and TP regeneration, as well as a Union Burst summoning three unique spirits, Chika (Holiday) is prepped to go, both on the battlefield and caroling through the streets of Landosol. Get ready to spend yuletide with her cool side.
Just be careful, though - the Santa Clause here is that Chika (Holiday) is a limited character, which means that she won't be added to the regular Premium Gacha pool after her Focus Gacha ends. You can't have the holidays around all the time, so make the most of it during the season!
The Chika (Holiday) Focus Gacha will run for 15 days, from 11/22, 23:00 UTC to 12/7, 22:59 UTC.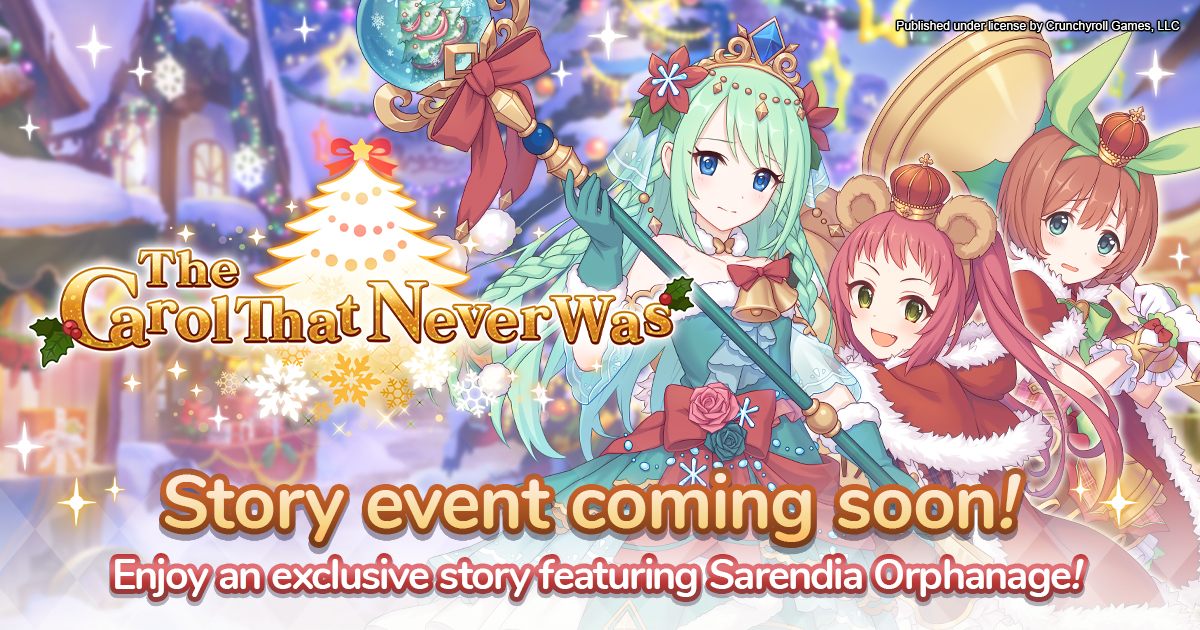 Speaking of Chika (Holiday), she'll be playing a front-and-center role in the next special story event, The Carol That Never Was! Set to the landscape of a snow-covered Landosol, you'll be sure to enjoy a grand holiday party as Ayane and Kurumi prepare for a... h-hey, why is Chika unconscious on the ground outside?
And more importantly, why can't she remember who she is?
As with our previous events, this event also features exclusive boss battles, where you can test your skills in varying difficulties: Normal, Hard, and Very Hard. You'll want to prepare yourself for the Very Hard boss, as it can prove to be quite a challenge, and is only clearable once per day. You'll need Boss Tickets to earn a shot at defeating the boss, which can be obtained by clearing event stages and from login bonuses while the event is active. If you don't successfully defeat a boss on your first attempt, you can retry as many times as necessary, and non-lethal damage dealt to a boss will carry over between attempts.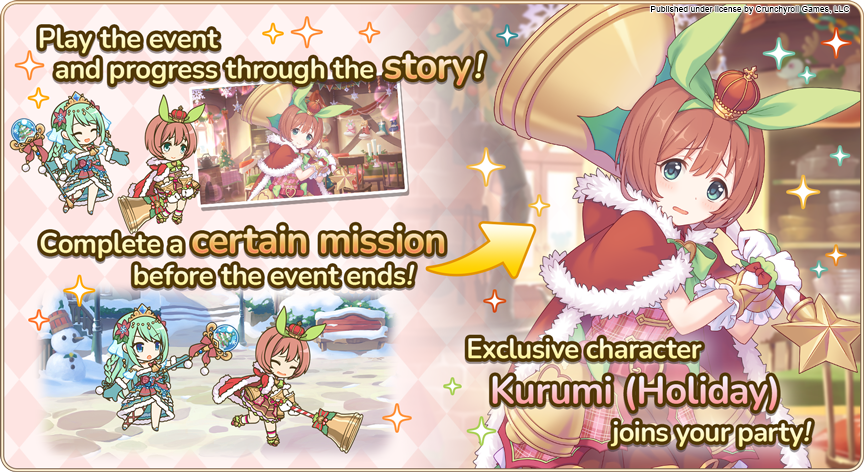 As with our Halloween event, players will be able to obtain an exclusive free unit in Kurumi (Holiday) after defeating the boss 5 times at any difficulty level. Kurumi might be a little shy but she's sure to ring in holiday cheer with her jolly bell. Make sure to catch her before she hides for good!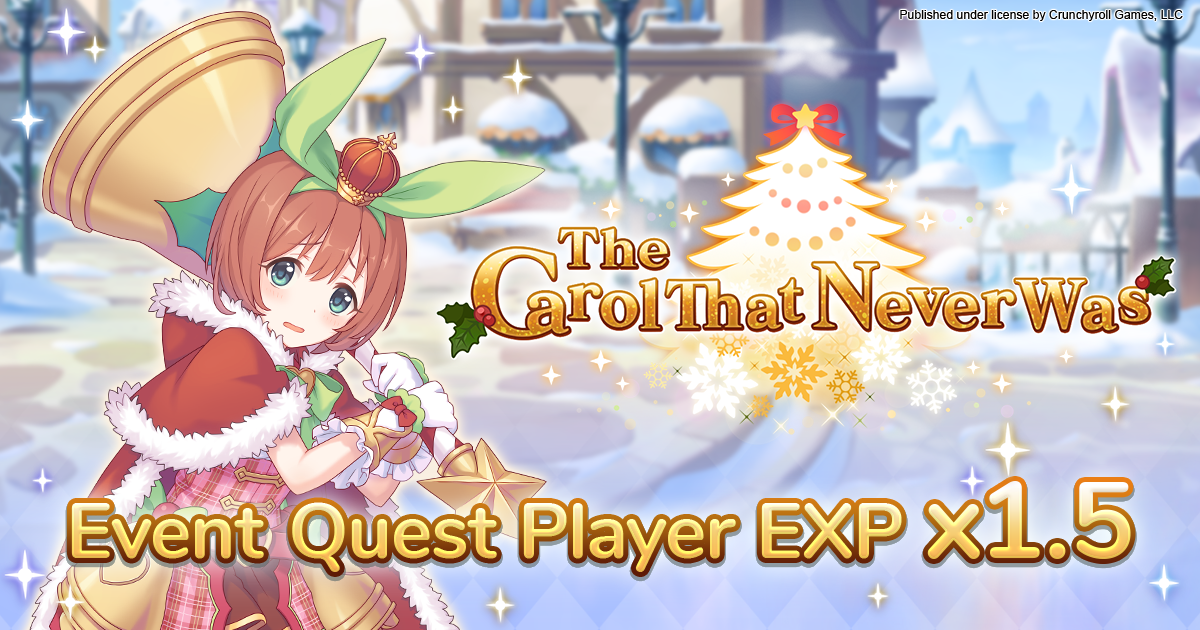 To spread the holiday cheer, we're also boosting experience gain rates for completing Event Quests. During the event, clearing Event Quests will give 1.5x times the normal experience, in addition to the normal Mana, items, and Boss Tickets that these quests give out.
The Victory Medal Gacha also makes its joyful return for the event! Clearing event stages, event missions, and defeating the previously mentioned bosses will earn you Victory Medals, which can be exchanged for a plethora of goodies. There's a predetermined series of reward lineups, each featuring a key reward - once you roll the current lineup's key reward, you'll have the opportunity to either reset the rewards and move ahead to the next lineup, or hold off on resetting to clear out all the possible rewards. Here are the key rewards you should look out for!
Lineup 1: Nozomi's Memory Shard x 20
Lineup 2: Kurumi (Holiday)'s Memory Shard x 25
Lineup 3: Nozomi's Memory Shard x 30
Lineup 4: Kurumi (Holiday)'s Memory Shard x 40
Just remember - once you've gone through the four initial lineups, you won't be able to reset the active lineup until you've obtained all the possible rewards from the current active lineup.
The Carol That Never Was story event will be available from 11/22, 23:00 UTC to 12/6, 22:59 UTC.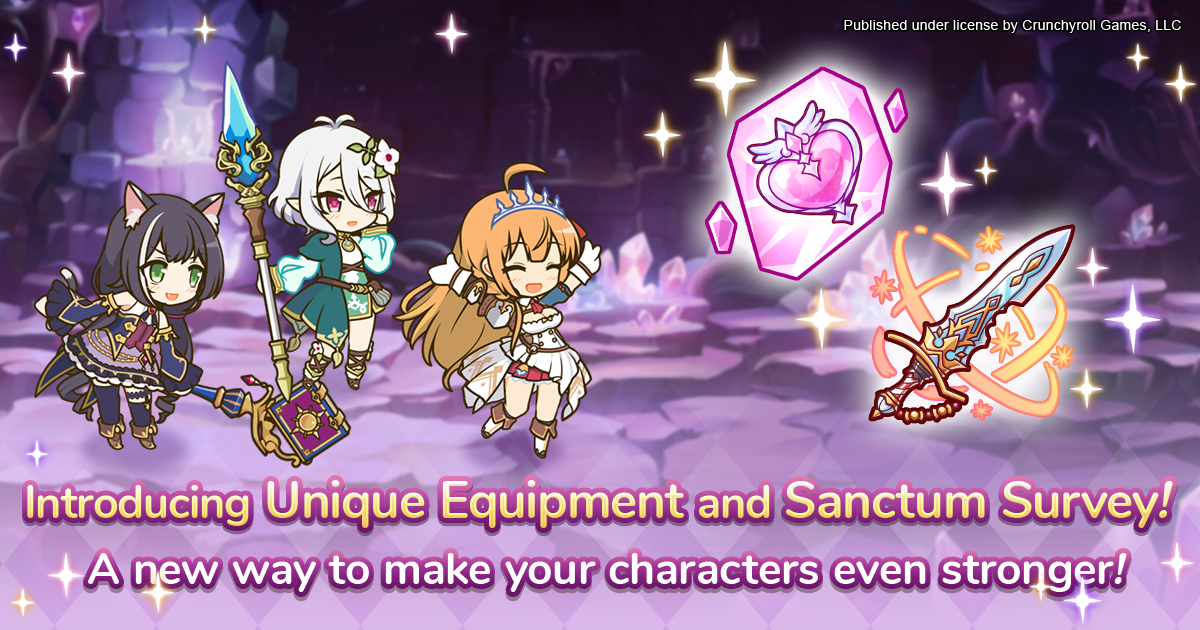 Remember those Princess Hearts you've been collecting in Tower of Luna? Well, you'll finally find use for them with our latest update! Introducing Unique Equipment that will further power up your heroines with powerful skills and additional stats when equipping them. This unique opportunity will only be available for certain characters including:
Hiyori
Yui
Rei
Kurumi
Saren
Nozomi
Pecorine
Kokkoro
Karyl
Along with Unique Equipment, Sanctum Survey will also be available. Similar to the Grotto, this is a special stage that rewards Knights that clear it with special items to combine into Princess Hearts. You'll get access to the stage once you've completed Main Story Quest Quest 9-2. With a combination of Princess Hearts, Memory Shards, and Mana, you'll be able to unlock Unique Equipment for your favorite characters which you can then further level up.
Sanctum Survey and Unique Equipment will be available after 11/30, 13:00 UTC. Don't forget, you'll need to clear Main Story Quest 9-2 in order to access the Sanctum Survey.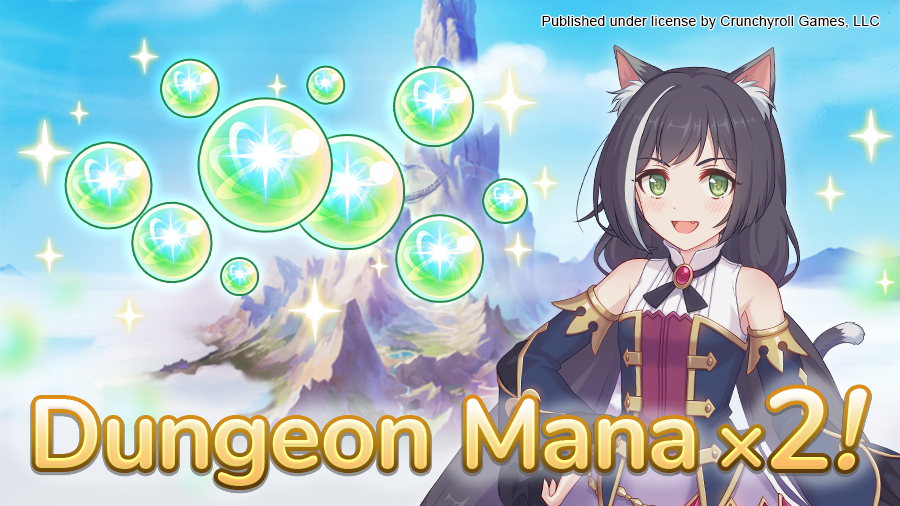 It just wouldn't feel like the holidays without more double events. Rest assured, we've got you covered. First, we have the Dungeon Double Drop Campaign, where clearing Dungeon floors will give double the usual Mana. With all the new content dropping, there's no better time to restock your coffers!
The Dungeon Double Drop Campaign runs for 11 days, from 11/23, 13:00 UTC to 12/2, 12:59 UTC.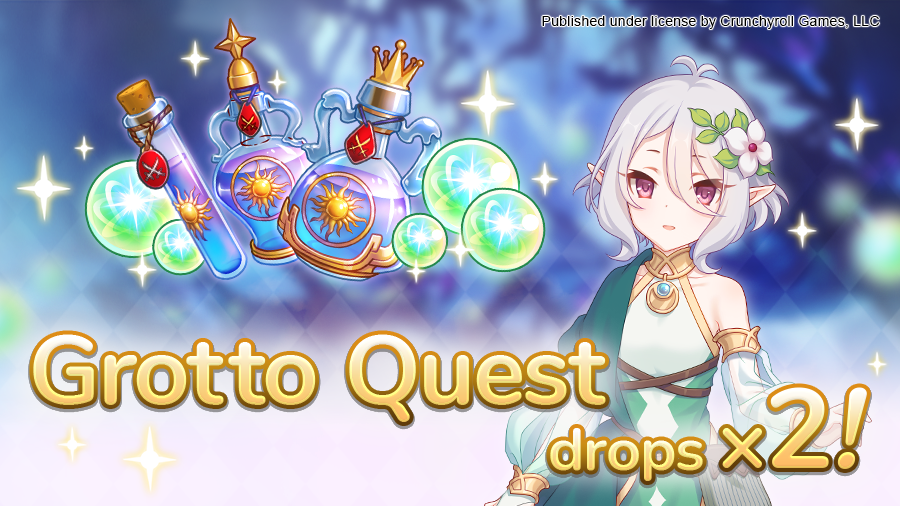 With so much festive spirit, we can't forget about "grot-two" as double drops will be making its way back into the Grotto. During the Grotto Quest Double Drop Campaign, you'll obtain twice the Mana and twice the EXP Potions when completing Grotto Quests. To spice things up, we'll also be unlocking Level 6 of both Grotto Quests to help you stockpile the much-needed Mana and EXP Potions.
The Grotto Quest Double Drop Campaign runs for 11 days from 12/2, 13:00 UTC to 12/12, 12:59 UTC. Level 6 of Grotto Quests will also be available after 12/2, 13:00 UTC.
For easy reading and accessibility, included below is a summarized version of all the updates announced today. Thank you for all your support, and we hope you continue to enjoy Princess Connect! Re: Dive!
See you in Astraea, Knights!
— Crunchyroll Games
*Note: All event details may be subject to change. Please check the in-game notifications at the start of the events for the full details.
Chika (Holiday) Focus Gacha (11/22 23:00 UTC to 12/7 22:59 UTC)

Boosted rate-up for Chika (Holiday), also available for redemption via character exchange points.
Chika (Holiday) is a limited unit and will only be available during the Focus Gacha period.

Story Event - The Carol That Never Was (11/22 23:00 UTC to 12/6 22:59 UTC)

Event exclusive Kurumi (Holiday) can be obtained.
Event missions give 1.5x experience.

Unique Equipment & Sanctum Survey (After 11/30 13:00 UTC)

Sanctum Survey unlocked after completion of Main Story Quest 9-2.

Dungeon Double Drop Campaign (11/23 13:00 UTC to 12/2 12:59 UTC)
Grotto Quest Double Drop Campaign (12/2 13:00 UTC to 12/12 12:59 UTC)

Level 6 of Grotto Quests unlocked (After 12/2 13:00 UTC)