Multi-talented Japanese music artist, JIN AKANISHI, is crossing over to the U.S. with energetic pop single, "Test Drive featuring Jason Derulo"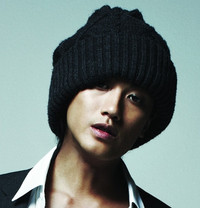 Top-selling Japanese vocalist, musician and actor, Jin Akanishi, is about to take the U.S. by storm with his highly anticipated all-English single, "Test Drive featuring Jason Derulo," slated to release in the U.S. on Tuesday, November 8, 2011. "I've been given this great opportunity to crossover to the U.S.," said Akanishi, who signed a global deal with Warner Music Group in December 2010, "and I'm so excited to be able to share my music and style with more people."
"Test Drive featuring Jason Derulo" will be available for purchase through all digital retailers and streaming services starting Tuesday, November 8th at 7:00AM PST. In concurrence with the release of "Test Drive featuring Jason Derulo," Jin will also be answering questions from all his fans during a LIVE U-Stream session with details to be announced through his official Facebook fan page at www.facebook.com/JinAkanishiMusic.
Akanishi, well-known for his unique talents from dynamic vocals to songwriting and hip-hop dancing, achieved superstardom in Japan and throughout Asia at a young age. As a former vocalist in the popular Japanese boy band, KAT-TUN, Akanishi set milestones with his original lyrics and energetic performances propelling all of their singles, albums and DVDs to #1 on the Japanese National Charts.
After a widely successful solo tour in Japan, Akanishi decided to take his music abroad. "You & Jin U.S.A" and "Yellow Gold Tour 3010" drew thousands of fans and packed venues in Los Angeles, Chicago, Houston, New York and San Francisco without a U.S. release or support from a record company. After the success of his U.S. concert tours, Jin knew he made the right move to go solo. Now he's ready to follow his dreams and fully transcend his talents outside Asia.
The overwhelming support from his fans all around the globe is the force behind Jin's motivation to keep doing what he truly loves - entertaining the masses. His creative vision is to produce new music by merging his J-pop style with the U.S. music trends. His fascination with the U.S. culture and music has made him a big fan of Jason Derulo, The Stereotypes, The Black Eyed Peas, Lil Wayne, Dr. Dre, Nicki Minaj and many more avant-garde artists of the like.
Now on the verge of his first U.S. single release, "Test Drive featuring Jason Derulo," and wrapping up the movie, "47 Ronin," starring Keanu Reeves, Akanishi is just getting geared up for his new life in the U.S. limelight. "We are delighted that Jin is making his U.S. debut, following his sold-out tour here last year," said Rob Cavallo, Chairman, Warner Bros Records, "Jin is a talented, versatile artist who is already a superstar in Japan, and we are looking forward to working with him to build his American fan-base and global career."
###
About Warner Bros. Records
Warner Bros. Records is one of the most successful recording companies in music history and home to some of the most influential and innovative artists of our time. Its reputation and extraordinary roster of new and established recording artists is unparalleled, and its collective influence on pop culture is without precedent. In 2007, Warner Bros. was ranked the No. 1 record label in the U.S. as measured by Total Album share and has been ranked one of the country's top three labels every year since 2003.
Warner Bros. Records was founded 50 years ago by Jack Warner, the last of the original pioneering Warner brothers, as an offshoot of Warner Bros. Studios, which, 32 years earlier, had introduced its Vitaphone sound-on-disc system for feature films. The acquisition of Frank Sinatra's Reprise label in 1963 catapulted the company into one of the most dynamic organizations in popular music and throughout the next five decades built a family of labels that today represent a full spectrum of musical genres.
For more information about Warner Bros. Records visit: http://www.warnerbrosrecords.com/