Pokémon Bento is also on sale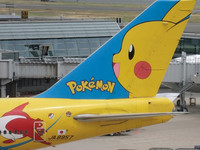 ANA (All Nippon Airways), the largest airlines in Japan, has presented its newest Pokémon jet, "Peace Jet," since July 18. The Boeing 777-200 jets are decorated with various Pokémon characters. The other day I happened to see the two Pokémon jets and took some photos at Tokyo's Haneda International Airport. I post them here for the Crunchyroll News readers.
At the airport's shop
The price of this Pokémon jet model is 168,000 yen (US$2,170)
They are selling Pokémon Bento at the airport.
Pikachu on the cover of the ANA flight schedule