The new webcomic by Hiroyuki Takahashi starts here!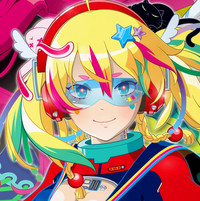 Crunchyroll's original webcomic, HYPERSONIC music club, debuts today with a stunning splash page that features dramatic reveals for all the main characters and sets things up for the crazy colorful cyber action to come.
The first installment is below, and there's much bonus art from series artist Hiroyuki Takahashi afterward. But for now strap on your headphones! Adjust your levels! Let's get HYPERSONIC!
----------------------------------------------------------
Now that we're off to the Overtones, let's put you on a first name basis with the core members of music club. We'll leave you to wildly speculate who the others in the picture might be. Expect full character bios and backstories beginning next week with our next HYPERSONIC music club post!
VAL
LANYA
BYRD
COSIMA
Now, as a glimpse into Hiroyuki Takahashi's creative process, here are the same character poses at the line art stage...
Finally, here's an early version of the page with all the basic elements combined, but minus the finishing touches...
FINALLY to celebrate the official beginning of the HYPERSONIC story, the Crunchyroll Store is now offering an exclusive limited edition HYPERSONIC music club signed by Hiroyuki Takahashi at a special price!
The Crunchyroll Store is also offering a pair of Hiroyuki Takahashi stunning illustration books originally sold at Comiket in Japan. Both his Original Character Illustrations Vol. 8 and Line Art Illustrations books are in limited quantities.
Hiroyuki Takahashi Original character illustrations Vol. 8
Hiroyuki Takahashi Line Illustration Art Book
Want more HYPERSONIC merchandise or Hiroyuki Takahashi goods? Let us know in the comments below!
Now as we prepare to enter the world of HYPERSONIC via the Overtones next week, here are the main links to remember. Keep in mind we will be adding more platforms in the days to come, including Crunchyroll Manga!
hypersonic-music-club.tumblr.com (All art, bonus features)
HYPERSONIC music club Crunchyroll News page (Latest developments, new pages debut here first)
Hiroyuki Takahashi on facebook (The artist himself!)
SEE YOU NEXT WEEK!
------
Patrick Macias is editor in chief of Crunchyroll News and Otaku USA magazine. He is also the author of Paranoia Girls webcomic.