Creative Spotlights are a column by Brandon Teteruck highlighting industry talent in anime. This week is on the director of Mononoke, Kenji Nakamura!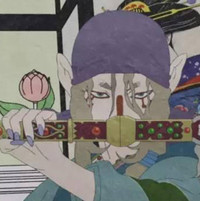 Creative spotlights are easily digestible overviews of a director or animator's body of work, style, and vision. My goal for these articles is to highlight some of the exceptional and possibly lesser-known creative voices in anime. I'm hoping these write-ups encourage people to explore more of what anime has to offer.
The spotlight for this week will be on Kenji Nakamura, the brilliant director behind critically-acclaimed anime such as Mononoke and Kūchu Būranko.
Kenji Nakamura has received a lot of attention from the anime community in recent years due to the wide range of stylish productions he's directed. His anime are often filled with vibrant colors and dynamic storyboards, often leaving viewers mystified by his craft. At the same time, he's not just for show, as his anime are thoughtful stories which shed light on important social issues. Whether you're a fan of Nakamura's anime or are thinking of checking his work out, you'll want to learn about the experiences that made him into the director he is now.
Though he's passionate about working in the anime industry now, this wasn't always the case for Nakamura. In fact, as a child, he wasn't even interested in watching anime as a hobby. It wasn't until he saw the original Gundam series and Hayao Miyazaki's Laputa that he became interested in the medium. Even then, Nakamura had no intentions of being an animator and pursued the career path of a salaryman instead. However, workplace stress quickly lead to him re-evaluating his lifestyle, and at the young age of 24, he entered the Yoyogi Animation Institute to pursue animation.
Like many others, Nakamura started out in the industry as an animator. When he graduated, he began work at a studio called Sam Tack and did in-between work. This stint was short-lived, however, as he developed tendonitis and struggled keeping up with the tight deadlines of TV anime production. As a result of his struggles, Nakamura became disillusioned by the industry, as he felt an environment that forced him to rush wasn't good for his creative process.
This is perhaps why Nakamura was so quick to become a production assistant when Sam Tack received an offer to do a joint production with Toei Animation on Kindaichi Shounen no Jikenbo. He found that being able to supervise all stages of an anime's production, from scenario to filming, was a better fit for the type of person he was. Additionally, Nakamura enjoyed being able to work closely with people at the centre of the industry; it gave him the feeling of being more in control of the final product.
Additionally, the connections that Nakamura made during his time as a production assistant were invaluable to his growth. While at Toei, he was given an assistant director job for the Digimon Adventure 02: Counterattack of Diaboromon film and honed his craft under Kazuto Nakazawa, a veteran animation director and character designer. He also had the opportunity to work with Akiyuki Shinbo on Tatsunoko Production's The SoulTaker. Nakamura specifically directed the anime's fifth episode where he commanded the audience's perception of physical space through his disorienting layouts – an aspect of his craft that he'd later perfect in Mononoke.
In 2006, Nakamura entered the director's seat with Ayakashi: Samurai Horror Tales, an anthology of classic Japanese ghost stories produced by Toei Animation. The anime aired as part of the Noitamina block and consisted of three separate story arcs, each with a different director. Nakamura was responsible for the anime's last three episodes, known as the "Bakeneko" arc – an original story based on traditional yokai folklore.
Nakamura had almost complete control with the direction of the Bakeneko arc. He directed and storyboarded two of its three episodes and took a number of risks with its visual style. Since he was still an unknown figure in the anime industry, the emerging director wanted to leave his mark with his debut. Nakamura's storytelling ethos was that within a scene, intentions or ideas should be conveyed through visuals as opposed to explanations in the script. He strongly believed that viewers were perceptive and would be able to pick up on subtle hints in his cinematography.
When it came to both the Bakeneko arc in Ayakashi and its sequel Mononoke, their stories were simple yet powerful fables rooted in traditional Japanese folklore. Vengeful spirits called mononoke were the focus of each tale, in effect symbolizing people's lingering feelings of revenge or regret. As Nakamura was dealing with more abstract concepts such as emotion, he chose to convey his ideas through a distinctive visual identity. The Bakeneko arc and Mononoke possess strong Ukiyo-e visuals, creating a strong association with the Edo period setting. At the same time, Nakamura's approach also contains hints of postmodernism, with visual nods to the paintings of Gustav Klimit.
Both Bakeneko and Mononoke were not meant to be faithful renditions of Edo Japan. Rather, Nakamura is working with the traditional backdrop to construct an externalized manifestation of the characters' emotional realities. In Mononoke, he creates a stylized aesthetic that exists between the threshold of dream and reality. Real-life objects clash with otherworldly color combinations as they cohesively come together in this symbolized world of animation. Nakamura understands exactly how to use the power of animation to explore the complexities of humans.
Post-Mononoke, Nakamura continued his pursuit of elaborate animation projects with the black comedy, Kūchu Būranko. Taking his psychological manifestations a step further, Kūchu Būranko is a contemporary work set in modern-day Tokyo that focuses specifically on the problem of mental illnesses. With each episode of the anime focusing on a different condition, such as anxiety or depression, Nakamura uses the episodic format brilliantly. Though always possessing bright colors, textures patterned with polka dots and the eerie gaze of Toei Animation's mascot, each episode expresses the individual reality of a specific patient at Irabu's clinic.
There's nothing quite like Kūchu Būranko in anime. With a visual aesthetic that blends traditional 2D animation, rotoscoping, and unconventional filters, Nakamura pushes the envelope of narrative-based surrealism. He gives us a work that presents traditional remedies to mental illness, and then smashes them to pieces with a hallucinogenic medical ward and a psychiatrist with a fetish for needles and injections.
Kūchu Būranko was just the beginning of Nakamura's portfolio of works dealing with prevalent social issues. As time went on, he began experimenting with different genres and their conventions to explore how his messages could reach younger audiences. For example, he uses the popular battle shōnen format in C – Control to create a storyline specifically related to the 2008 financial crisis. Impacted by the recession caused by the bankruptcy of the Lehman Brothers, Nakamura conducted over twenty interviews with retired politicians and CEOs across the world to hear out their opinions on the matter. While he came across many divergent opinions, Nakamura became worried that the Japanese people weren't addressing their present financial issues, thus putting future generations at risk. As a result, he wanted C – Control to strike a fine balance between being entertaining and communicating the importance of global economics.
Kenji Nakamura is an individual with no shortage of talent as a director. He has sought to create anime that are both visually stimulating and socially-conscious. Drawing from his own hardships and experiences, he understands the importance of not just using animation as a medium to entertain, but to educate as well. He is a creator who delivers with the best of intentions and often does so with a touch of humor. If you're interested in a voice in anime who truly understands the struggles of his society and generation, then look no further.
Let us know your thoughts about Kenji Nakamura's anime in the comments below!
----
Brandon is a Brand Features Writer for Crunchyroll and also writes anime-related editorials on his blog, Moe-Alternative. Hit him up for a chat on his Twitter at @Don_Don_Kun!