Creative Spotlights are a column by Brandon Teteruck highlighting industry talent in anime. This week looks at Haibane Renmei and its creator Yoshitoshi ABe!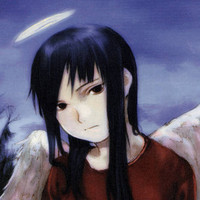 Creative Spotlights are a column of articles with the goal of highlighting exceptional talent in anime. With a growing amount of interest in the area of anime production, I am hoping to bring to light the individuals responsible for many fantastic anime series. Directors, animators, and even character designers will be profiled, along with some of their most noteworthy work. Through these features articles, I hope I can generate more discussion on these key figures in anime and get people to check out some of the lesser-known anime out there.
This two-part feature will spotlight the duo responsible for the inception of Haibane Renmei: producer Yasuyuki Ueda and character designer Yoshitoshi ABe.
With Crunchyroll recently adding Haibane Renmei to their catalogue of anime, viewers now have the opportunity to experience the most imaginative and harrowing stories from the mind of Yoshitoshi ABe (Serial Experiments Lain, Texhnolyze). Originally airing in 2002 and produced by the animation studio Radix, Haibane Renmei was one of the earliest proponents of the iyashikei (or "healing") genre of anime. Unlike more recent titles in the genre such as Non Non Biyori which are set in modern-day Japan, Haibane Renmei takes place in a unique rendition of purgatory. Featuring a cast of characters resembling traditional Christian angels, the story is set in a quaint countryside village protected by towering walls. The anime follows the daily lives of the world's residents (called Haibane) and is both a soothing and mystifying journey. It's a title that ultimately instills a great sense of wonder and catharsis in the viewer, and its legacy still lives on to this day in the hearts of its fans.
While many anime are either adapted from manga or novels, Haibane Renmei was originally conceived as a short doujinshi by Yoshitoshi ABe. In 1998, around the time that Serial Experiments Lain aired, ABe wrote and drew Haibane Renmei as a personal fan work. Although he was already a well-established graphic artist at the time with Serial Experiments Lain under his belt, the artist wanted to experiment with his own concepts and ideas. Without a solid plan in mind for the characters and their world, ABe settled on the doujinshi format in order to allow his spontaneous ideas to take flight. From his perspective, a commercial magazine serialization would impose deadlines, page limits, and limitations on character designs, restricting his creative freedom with the work.
It was easy to see that ABe was not the type of artist who simply entered the industry to make quick money. In fact, he even admitted in an interview with Animerica that he hated drawing throughout middle and high-school. However, ABe eventually had a change of heart and pursued Japanese-style painting at the Tokyo National University of Fine Arts and Music. He later turned to more digital technology for his illustrations and cemented a distinctive art style with heavy shading and subtle tones of colors. Unlike other prominent artists working in anime, ABe never had a foundation (let alone an interest) in anime. Growing up as a child, his parents wouldn't let him read manga, so the art style he settled on was far-removed from the popular character designers of his time. It wasn't until 1995 when he was approached by producer Yasuyuki Ueda to provide concept artwork for Serial Experiments Lain that ABe began working in anime.
Ueda was the individual who enabled ABe to flourish as both an artist and a creator within the late 90s and early 2000s. He's the type of producer who would rather make a thought-provoking anime, as opposed to a best-seller. Furthermore, Ueda plays an active role in the planning stages of a production, working closely with the director, artists, and scriptwriters to cement ideas into a more concrete narrative. At the same time, he places a great deal of faith in the individuals responsible for the framework of an anime – often allowing them to build a story from the ground up.
Haibane Renmei was one such case, as Ueda took a huge risk by greenlighting the anime after reading ABe's doujinshi. For Ueda, the vision that ABe created within his short story was enough to capture his attention and sell him on the concept. Only spanning a handful of pages, the original Haibane Renmei doujinshi had just enough material that could be used to fill half of an episode's airtime. However, like many of ABe's other short stories or doujinshi, it was not a work with a defined end in mind, but rather an exploration of a concept.
It wasn't that Ueda saw an instant masterpiece in Haibane Renmei, but rather an intriguing concept that could be further developed over the course of a 13-episode TV series. ABe's original work was brief, but it contained so many pertinent details about the characters and their world. While the concept of angels in fiction was nothing new for anime, Haibane Renmei was an imaginative twist on many popularized portrayals of them. The Haibane possess charcoal-colored wings instead of the more traditional white wings, and receive their halos after being born into their world through a cocoon. Despite bearing a strong resemblance to the angels of Christianity, ABe has stated before that the Haibane's designs were more an aesthetic choice rather than a religious one.
Perhaps the most mystifying conceptualization of ABe's original work was how it explored the Haibane's origin. Each Haibane is born into their world through a cocoon, which sprouts from the ground until it grows into the size of a person. While inside the cocoon, each of the Haibane exists in a perpetual comatose state of consciousness until they finally break through the cocoon and hatch. Once in their new world, they are given a name and a halo which floats above their head. Shortly after, the Haibane develops a pair of wings on their back, which is a long and grueling process. The wings sprout from underneath the host's skin, until it finally pierces their flesh – stained by their blood. Because of the severe pain the newly born Haibane experiences as their wings rapidly grow, they require intensive care and medical attention. The birth of a new Haibane is one of the most gut-wrenching scenes to witness in both ABe's original doujinshi and the first episode of the TV anime.
Haibane Renmei is a mystifying series from the brilliant mind of Yoshitoshi ABe. The original doujinshi established a unique setting and race of characters that intrigued producer Yasuyuki Ueda and paved way for a full-length TV anime. Look forward to the second part of this feature where I'll be covering the production of the Haibane Renmei anime!
Let us know your thougths about Haibane Renmei and the works of Yoshitoshi ABe in the comments below!
----
Brandon is a Brand Features Writer for Crunchyroll and also writes anime-related editorials on his blog, Moe-Alternative. Hit him up for a chat on his Twitter at @Don_Don_Kun!