Trust us, we know a good mom when we see one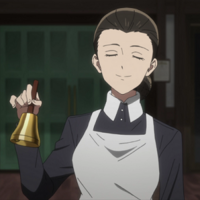 Fiction has never been very kind to orphans. As if losing one's family isn't tragic enough for children in media, their writers often see fit to punish them further by sticking them in the care of rundown institutions in the charge of some of the most despicable humans imaginable. Across the centuries, from the classic novel Oliver Twist to the famous stage play Annie and the popular animated film Despicable Me, writers of all types have seemingly had it out for orphans, and especially those tasked with caring for them.
Imagine my delight, then, when this season's The Promised Neverland began. The show's cast of orphaned characters may have some rough adventures ahead of them, but they're already luckier than most fictional orphans. After all, their fate has been placed in the hands of Mom, the benevolent caretaker of Gracefield House. From what I've seen in the show so far, Mom is nothing if not a completely selfless individual with nothing but love for the children in her care. Without spoiling too much of what the show has in store for you, I'd like to make my case for why Mom is already anime's mom of the year.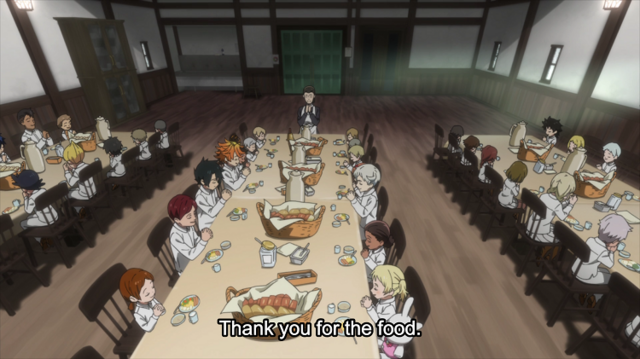 The most striking thing about Mom is her selflessness. There are 38 children under her care in Gracefield House. Care to guess how many other adults are there to help her at the start? None. That's right, Mom cooks, cleans, and cares for 38 kids all by herself. This includes taking charge of both their education and physical fitness. One would expect the quality of care to suffer in these circumstances, but the complete opposite is true. The children of Gracefield House are well-fed, well-behaved, and excel both physically and mentally. The house itself is kept in perfect condition as well. Mom's entire life is dedicated to the care of these orphans, with nothing apparent to gain from it. If selfish motivations ultimately drive her, I can't fathom what they might be.
One of the most crucial ways Mom cares for the children of Gracefield House is by supporting each child in their own individual way. Everyone is different, and Mom knows that what makes them different is what makes them special. One of the show's first scenes shows Emma--an older child--playing around with the young ones at breakfast. Some of the other children tease Emma for being childish, but Mom simply chuckles and points out that Emma only acts out of love for her family. Mom makes it a point to encourage the children where they excel without holding the rest to the same standard. She always praises the top test scorers without shaming the rest for not performing as well. It's undoubtedly thanks to Mom's positive reinforcement that Gracefield House is responsible for some of the best children shipped out into the world.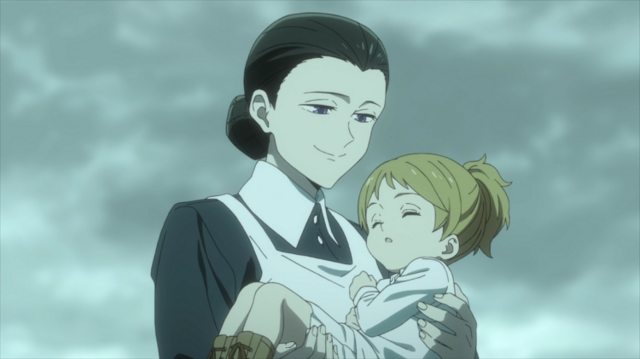 Every kid loves to play. In fact, every kid NEEDS to play. Thankfully, the children of Gracefield House are blessed with a field for them to run around in and a forest full of trees for them to climb. While that does sound nice, it could potentially be a recipe for disaster. With one woman watching 38 kids in an area that size, one would expect them to frequently get hurt or lost. Remarkably, there's no indication of that being a problem at all in Gracefield House. A fence and gate prevent the children from wandering too far off, and when one child does get lost in the show, it isn't for long. Call it a mother's intuition, but Mom always seems to know exactly where her children are lost or hiding in the forest. That fact speaks volumes for how well she knows the orphans in her care.
If it isn't clear by now, Mom is clearly attached to each and every child that steps through her doors. From the time they enter Gracefield House to the moment they leave, they receive some of the most personal and constructive care one can ask for. When it's finally time for a child to leave and meet their new family, Mom personally escorts them to the front gate. The only thing she asks from the children she's cared years for is that they allow her some time alone with each child before they leave. It's as heartwarming as it is heartbreaking. With the narrative being focused through the lens of the other children in the show, one can only wonder what final words she shares with the departing children. She removes one's hand-drawn art from the walls at the very end, likely the only thing she'll have to remember them by once they're gone.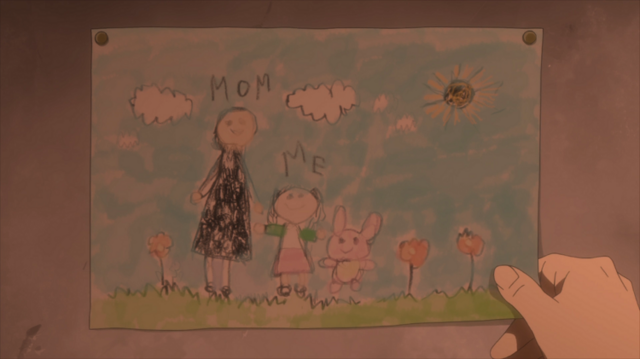 Not to toot my own horn, but I kind of consider myself a bit of a connoisseur of anime mothers. I know a good one when I see one. I can say with the total utmost confidence that The Promised Neverland's Mom is a saint among mothers. I can't find any fault with her. There's simply no explanation for the care she gives other than pure, unadulterated altruism. You'll be hard-pressed to find anyone else quite like that, fiction or not. Every one of us would be lucky to find ourselves in her care. The world that The Promised Neverland offers its children is sure to be cruel and uncaring, but when all is said and done, they'll always have someone they can trust in Mom.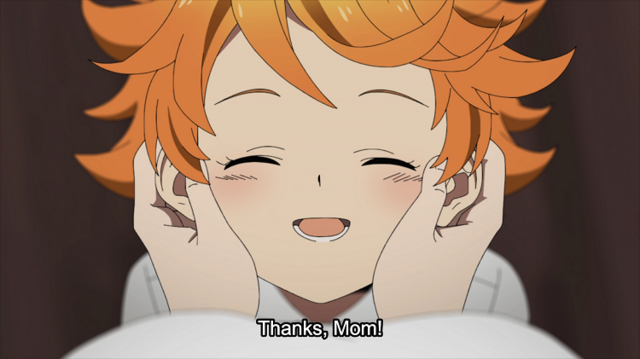 Are there any other moms you think deserve recognition this season? Who are some of your all time favorite anime moms? Let us know in the comments below!

-----
Danni Wilmoth is a Features and Social Videos writer for Crunchyroll and also co-hosts the video game podcast Indiecent. You can find more words from her on Twitter @NanamisEgg.
Do you love writing? Do you love anime? If you have an idea for a features story, pitch it to Crunchyroll Features!