Just who is this new mysterious character that will become tied to Rimuru? *SPOILERS CONTAINED*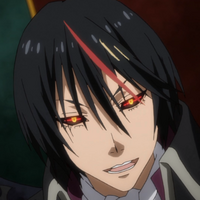 *SPOILERS CONTAINED*
As That Time I Got Reincarnated As A Slime wrapped up its main story in episode 23, we were given a glimpse of a character we will get to know next year when season two drops. Rimuru believes that all of their current problems are solved, but with this new character declaring that Rimuru will "lead him to the truth of this world", what does that mean and what will it entail? Thankfully, the latest episode has given us some clues about him and all it took was a trip to the past to see what's in store in 2020.
We've learned throughout the course of this first season about the strength and power of demon lords. They have their own minions, wield immense power, and are known far and wide. What about regular demons? Lesser demons? Demons that haven't reached the top of the hierarchy yet? As we are introduced to one of these demons in his battle against Shizu prior to her meeting Rimuru, we're able to learn more about this new character and also just what kind of power he possesses.
The power of Ifrit has made Shizu an incredibly powerful fighter, yet we see in her fight with this demon—who for clarification is later named Diablo—that she's pushed to her limit and reveals that Diablo was still holding back against her. As later revealed to be one of the three demon progenitors, Rouge, Blanc, and Noir, Diablo and the others are referred to as troublesome by the Demon Lord Leon. Yet, by the end of the episode, he helps Shizue out of her predicament she's in and reveals he's been eliminating demons masquerading as humans.
By going along with the story that Shizu defeated him, Diablo is both intrigued by a human that could take his arm, but isn't blinded by anger to want to immediately go after her. That begs the question of why would he do that? We know he has the power to easily dispel an archdemon and was very intrigued by Shizu's mask which is what took his arm. With Shizu not going along with the archdemon's plans, perhaps he saw her as someone who wasn't a true threat and didn't need to fight right then and there. So, where does that leave his new connection to Rimuru?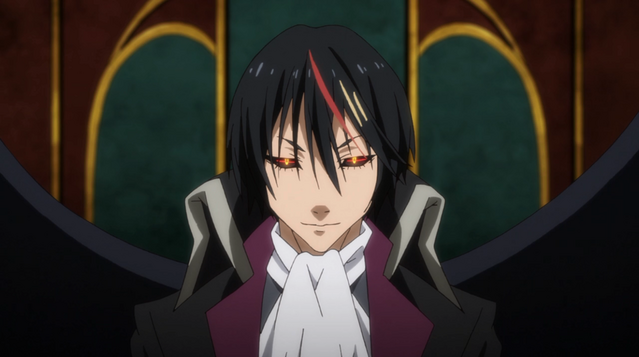 There seems to be some form of rift between the demon progenitors. Diablo mentions that the archdemon he defeats had aligned with Red and was dependant on them. It would be reasonable to think that Rimuru summons Diablo and names him as such to help him in a fight with Rouge or Blanc, but at the same time, what has Diablo been doing in the meantime to be able to keep an eye on Rimuru?
Perhaps the biggest question that will need to be answered next year is, can Diablo be trusted? Is Rimuru summoning and naming him going to be a smart decision or one that will end up backfiring on him? If the other progenitors are causing trouble and those problems start encroaching on Rimuru and his allies, it'd make sense for him to need that kind of power to help. At the same time, we've seen Rimuru take on numerous foes that have incredible power, would he really need Diablo's help to take down the progenitors?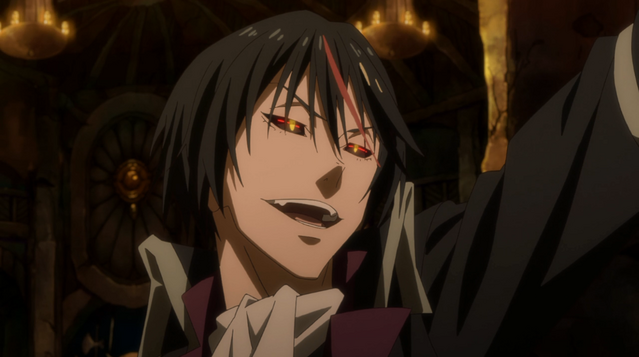 It may not be the progenitors that Rimuru would need help with as one overarching enemy that was not truly addressed in season one was the demon lords. Eventually, Rimuru is going to come face-to-face with them and in particular Clayman who is still casually drinking wine in his dark and spooky castle, plotting what to do next after the failed orc invasion. Leon is also out there somewhere which means at some point him and Rimuru will have to meet as well. These are two instances where it wouldn't hurt to have Diablo on your side, but it doesn't mean everything will be fine with him.
Rimuru giving away Shizu's mask to Chloe means that the mask is somewhat back out in the wild. Since it's not an ordinary mask and can be used to shield a person's power while also able to deal significant damage if struck, we could see a hunt for the mask that puts Chloe and the other students in danger. Who wouldn't want a powerful artifact like that? Especially someone who's already come into contact with it before. Diablo could use his newfound connection to Rimuru to gain knowledge about the mask and thus make a play to try and acquire it.
This is but a small sample of what we could expect in season 2 of That Time I Got Reincarnated as a Slime as we will most certainly see familiar faces return, new races and characters emerge, and a whole new set of conflicts that will transpire. We have plenty of time to attempt to figure out what will happen, but for now, we know that Rimuru's adventure will continue and Diablo will play a significant role in that. Will he be a helping hand or stab Rimuru in the back? You'll have to have perfect vision to see when season 2 drops in 2020.
What theories do you have about what will happen in season 2? Do you believe Diablo will be trustworthy or not? What kind of adventures will Rimuru get into next season? Let us know what you think in the comments down below!
---
Jared Clemons is a writer and podcaster for Seasonal Anime Checkup. He can be found on Twitter @ragbag.
Do you love writing? Do you love anime? If you have an idea for a features story, pitch it to Crunchyroll Features!