It's a very personal kind of time travel story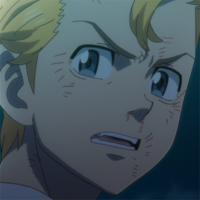 SPOILERS AHEAD FOR THE FIRST EPISODE OF TOKYO REVENGERS
Tokyo Revengers has a great premiere episode. One of its biggest strengths is that it flows very, very well, giving us a set-up of both a past and present location that never feels bogged down by pulling exposition double-duty. Pacing is hard to do in a first episode when all you have to do is establish ONE timeframe because you not only have to create a world and its characters but also confirm why audiences should even care about them. It's harder than it sounds, which is why bad first episodes tend to feel like a poor writer desperately pulling pages out of a show's encyclopedia and slapping them on a script. Tokyo Revengers gets us hooked without revealing its full hand or tipping into clumsy description. I'm excited to see where it goes from here.
That said, one point, in particular, caught my attention as being especially poignant. Stories that deal with time travel often have a difficult time feeling personal, even when the stakes — like Takemichi trying to save the life of his teenage girlfriend Hinata — obviously are. Time travel is such a big, weird thing with so many ramifications that they usually just kinda funnel toward these grand, end messages of "Hey, don't do that." Obviously, these can be powerful in the right hands, like with Ray Bradbury's "A Sound of Thunder." But it can also stink sometimes because time travel is inherently a kind of cocky, personal idea — that we can just go back and try to fix stuff, or that we can go back and not totally ruin the future for ourselves.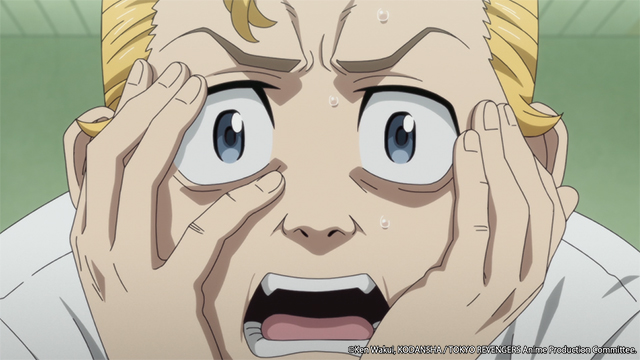 But in a single scene, Tokyo Revengers renders this particular case of time travel as ultimately personal. Just after being beaten up by a gang, Takemichi kneels on the ground, bleeding and weeping. He remembers his life, his future, and the kind of tragic rhythm it took. It becomes not a sequence of rises and falls but of a constant dull series of apologies. In this flashback (flashforward?), he's barely the main character of his own life. He's just a disappointment to others. His role is to be forgiven, not for any dramatic failure, but for a lifetime's worth of small, underwhelming actions. It makes him feel pretty pathetic, so much so that when he visits his girlfriend in the past, he can barely stop himself from bawling. They inevitably break up and she ends up dying while all he does is say "I'm sorry" to whoever asked him to be competent in the world.
That SUCKS.
And so Takemichi, along with Hinata's brother who he inspires, makes a vow to save her. It's a fantastic moment because we've seen what Takemichi goes through in his teenage years and adulthood. To try and change his own life is too big. There are too many working pieces, and it would inevitably lead to the kind of scenario that I spoke of earlier — a time travel story about a man from the present becomes a finger-wagging moral lesson about not screwin' with the future. But by saving someone else, Takemichi can (potentially) change himself. He can become someone he's proud of.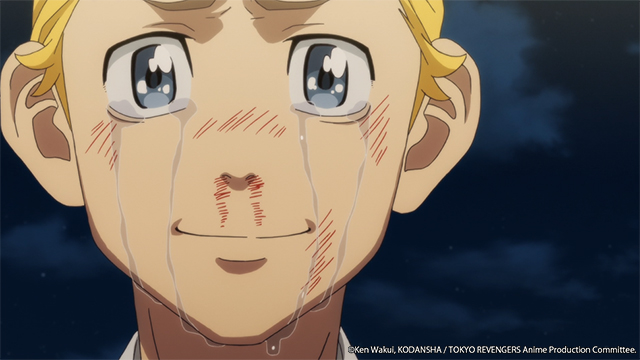 Tokyo Revengers has been compared to ERASED, another time travel anime, a lot. I was a big fan of that one, too, for how it kept the story a personal one. The characters have a mission that involves time travel, rather than letting time travel hijinks create the mission, as it usually goes. Combined with the fact that Takemichi has a kind of goofy, jockish everyman-ness as a kid, reminding me of Yusuke in Yu Yu Hakusho (another guy who died and is tasked with doin' cool stuff), and you can count me in for the next few episodes at least.
In short, while its pacing is great and its storytelling is smooth, I think the best part of the first episode of Tokyo Revengers is that, for now, it doesn't feel like it's losing its personal aspects in the science-fiction device of time travel. It makes Takemichi a more interesting protagonist because he's not aiming to change the world. He just wants to protect this girl, and if it involves changing the people around him, bring it on. And if the first episode is any indication, we're about to see one of the coolest shows of the season.

---
Daniel Dockery is a Senior Writer for Crunchyroll. Follow him on Twitter!
Do you love writing? Do you love anime? If you have an idea for a features story, pitch it to Crunchyroll Features!