Author namori draws celebratory image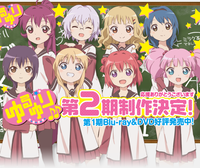 Earlier today during a broadcast on Niconico Live, it was revealed that production of a second season of Yuruyuri had been green-lit. In another one of those absurdly hard to differentiate in English titles, the second season will be titled Yuruyuri♪♪ (ゆるゆり♪♪). The Yuruyuri♪♪ Project Presentation will be broadcast on NicoNico Live on Christmas Eve.
namori, author of the series, has already tweeted an image they drew for the announcement:
For those who have been following how well the series has done for Ichijinsha, this should come as no suprise. The first season of the series aired over the Summer of 2011.
Image ©Namori/Ichijinsha, Nanamori-chuu Gorakubu