Big news to see an actual numbered installment instead of a title update from ASW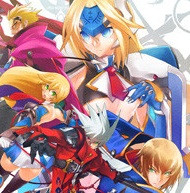 A recent interview with Japanese gaming magazine Gemaga revealed that BlazBlue designer/Guilty Gear producer and director Toshimichi Mori is interested in making BlazBlue 3, the follow-up to BlazBlue: Continuum Shift. The title would actually be a new numbered installment and not just an update like the upcoming Continuum Shift Extend.
Mori didn't mention whether or not the title would conclude the BlazBlue story (as most trilogies have been doing lately), and no word was given about what titles Arc System Works might be interested in after completing BlazBlue 3.
Mori did state that he would like to see a BlazBlue anime made, and left hints for studio producers to contact him. Heck, BlazBlue: Calamity Trigger had a great anime opening that could practically double as a series OP:
While this isn't exactly an exclusive thing, it does really set the stage for games and gives you hope for an actual anime to be made. What do you think? Are you more interested in what a third BlazBlue game will bring, or does an anime sound more appealing? How about both?
via Shoryuken