Nickelodeon confirms show is due in 2012, but will not say when.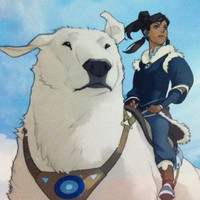 Earlier this month, Nickelodeon confirmed on Twitter that The Last Airbender: Legend of Korra is due this year, but refused to narrow down the time frame; saying "the official date hasn't been announced yet, all I can say is 2012 :X " and "You're pretty persistent. It's on schedule to start airing this year. No set date yet :)"
In the meantime, we have something new to look at from the production. Check out Korra and her polar bear dog named Naga in a bit of a Republic City urban bruhaha below.