Sorry folks, they're off the market...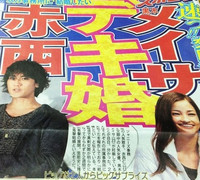 Japan is currently reeling from this morning's news that J-pop sensation Jin Akanishi (formerly of KAT-TUN) is set to marry superstar actress/singer Meisa Kuroki (probably best known for playing Yuki Mori in the recent live-action Space Battleship Yamato film). The pair had been spotting dating recently in assorted romantic spots, but wow, I guess things happened fast.
The kicker here is that Meisa (age 23) is two months pregnant. How having to change Pampers will impact her and Jin's (age 27) warp-speed careers remains to be seen.
And this ain't no rumor neither.
Yahoo! JAPAN has reported both pregnancy and marriage plans and it's all right there in the Sports Nippon paper below:
Sorry folks, they're off the market!
UPDATE: Japanese news is now reporting that the pair married on Feb. 2.