Designs from Shoji Kawamori, Haruhiko Mikimoto, sheet music and more!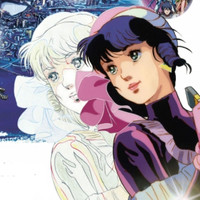 The gallery and cafe at Tokyo's Shibuya Parco will be the site of looking back at the development of the now 30-year-old mecha musical war epic Super Dimensional Fortress Macross. Macross: The Design will present co-creator Shoji Kawamori's (Escaflowne, Arjuna, Aquarion, the new AKB48 anime) mecha designs, as well as lego models for the transforming Valkyrie jet/robots, Haruhiko Mikimoto character designs, sheet music for the end theme, and life-size figures.
The first 100 people to spend over 3,000 yen on April 26 will receive a ticket for an autograph from Haruhiko Mikimoto at a signing event on April 29.
The venue's cafe has also been transformed into a Macross F themed Nyan Cafe with food like Galaxy Ramen
And, of course, there's merchandise for sale:
via Mantabweb Famitsu and Macross World