New publishing agreement includes previously canceled third volume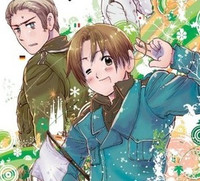 Fans of the Hetalia Axis Powers manga were gutted when it was announced that Tokyopop would be shutting down its US pulishing division last year after the collapse of bookseller Borders and the highly polarizing behavior of its CEO Stu Levy, as one of the titles that was set to be left behind was the Hetalia Axis Powers manga, since the third volume was slated to be released that May, the same month that the US publishing division was shut down.
Months of teasing and anticipation on Facebook followed with cryptic messages asking fans about continued interest in the third volume of the then canceled manga, with the response overwhelming the page to the point that the remainder of the company was convinced that there was enough demand to find a way to publish the series again.
After months of such teasing and anticipation, a new press release by online retailer The Right Stuf International has announced that the retailer is working directly with Tokyopop and Japanese license holder Gentosha to republish the series exclusively througth the retailer and the new run will include the previously canceled third volume which had yet to see release. The new publishing arrangement will see the series being handled on a print-on-demand basis, with the first two volumes being made available for purchase from today onward, while the third volume will see release in June with a special initial print run including color pages.
Pricing for the first two volumes is set at $15.99 while the initial run of the third volume will be available for pre-order for $10.99 until the initial print run is sold, at which time the price will then be increased to $15.99. Anyone looking forward to finishing out the Hetalia manga now that its officially coming back?
---
Humberto Saabedra is the Editor-in-Chief of AnimeNews.biz, PhoneNews.com and an occasional columnist for Ani.me. He can also be found musing on his favorite 2D girls at @AnimeNewsdotbiz.