Thousands march in celebration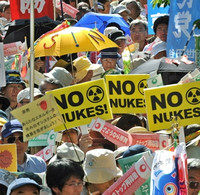 Now here's something really worth celebrating. As of today, Japan is free from nuclear power...
Over a year has passed since the 3/11 earthquake that created a global crisis at the Fukushima Dai-ichi plant. In that time, Japan has shut down the 50 nuclear power plants that have collectively been supplying 1/3rd of the nation's power for four decades. Saturday, May 5th, marked the end of an era as the Tomari nuclear plant in Hokkaido was turned off for maintenance.
Thousands of Japanese citizens have taken to marching in Tokyo, waving traditional koinobori fish banners that now double as symbols of the anti-nuclear protest movement. Today is also Children's Day in Japan, so emotions and the sense of hope for the future is running high.
Alas, a nuclear-free Japan may not last forever. Some of the plants now off line will eventually go back in service, but only after passing new safety tests and gaining the approval of local residents. Also, a move away from nuclear power could have long term effects on the nation's economy, as natural (and expensive) resources like gas and oil must fill in the gap.
But for now, let's hope that saying no to nukes is a step in the right direction, not just for Japan, but for all of us!