The 20-meter-long "Rathalos" statue at Universal Studio's Japan is declared the world's biggest!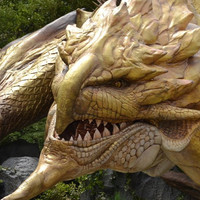 If the video-game series Monster Hunter sells pretty well in North America, it sells phenomenally well in Japan. And that popularity is probably why Capcom teamed up with the theme park Universal Studios Japan in Osaka to create the Monster Hunter Real experience.
One of the main attractions is "life-size" animatronic statue of the Rioreia (Rathian in the US version) that moves, roars, and shoots up smoke and glitter.
But it's that 20-meter silver Rathalos statue that was, in the past few days, declared the largest game-based statue in the world and was entered into the Guinness Book of World Records.
The exhibit also includes shops, displays, games and more.
Universal Studios Japan is one of Osaka's main tourist attractions. Does this make you want to visit more, less, or have no real effect on how much you want to go?
Edit: The Rathian animatronic was misidentified as record-winning Rathalos statue. We apologize for the error.
©CAPCOM CO. LTD.
Source: Mantan Web
Photo Source: 4Gamer.net