First collection of seminal shoujo due in May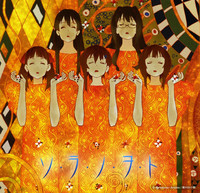 Anime producer and distributor Right Stuf, Inc. and its Nozomi Entertainment division announced that the first collection of seminal shoujo series Rose of Versailles will be released in May along with a new, repriced collection of K-on! goes to war anime Sound of the Sky.
Rose of Versailles, Part 1 Limited Edition DVD set will be available on May 7, 2013.


The first limited-edition DVD set will feature the series' initial 20 episodes – housed in a collectible, chipboard art box – with Japanese audio, English subtitles, and English on-screen translations, plus on-disc extras for $49.99.

This release marks the very first time The Rose of Versailles, also known as "Berusaiyu no Bara" and "Lady Oscar," will be available to English-speaking audiences in North America on DVD. Right Stuf and Nozomi Entertainment are also currently streaming the series via Viki (viki.com).
The Rose of Versailles is based upon the best-selling manga (comic) by Riyoko Ikeda (Dear Brother, a.k.a. Oniisama e...), which was originally serialized in Shueisha's shoujo (girls') anthology magazine Margaret, from 1972 through 1973, and later collected into 10 volumes. In addition to its anime adaptation, it inspired a short story collection (also written by Ikeda), a French-Japanese live-action film, and multiple musicals staged by Japan's famed Takarazuka Revue.

This 40-episode anime adaptation of The Rose of Versailles originally aired on Japanese television from October 1979 through September 1980.
About Rose of Versailles
General Jarjayes - so desperate for a son to preserve the family name and noble standing - names his newborn daughter "Oscar" and chooses to raise her as a boy.
Fourteen years later, Oscar is a masterful duelist, marksman, and the newly appointed Commander of the French Royal Guards. Her first task: to protect Marie Antoinette, who is engaged to the French prince and future king, Louis-Auguste.
But even though the planned marriage should provide both countries with some much needed peace and prosperity, the French court is a dangerous place - and Marie's youthful naïveté makes her an easy target for those who wish to see the monarchy overthrown. Oscar soon finds herself both defending Marie's reputation from those that seek to discredit her and protecting her life from those that wish to kill her.
Visit rov.rightstuf.com for more information about The Rose of Versailles, to preview the series and to pre-order the first limited-edition DVD set.
Sound of the Sky (Sora no Woto) Complete Series DVD set will be available on May 7, 2013 for $39.99.
This new set repackages all 12 television episodes of Sound of the Sky – plus the two special episodes from the home video release of the series – with Japanese audio, English subtitles and English on-screen translations, along with on-disc extras.
The series is based on an original concept by Paradores and features direction by Mamoru Kanbe (Elfen Lied, Letter Bee: Light and Blue Night Fantasy), series composition and scripting by Hiroyuki Yoshino (Macross Frontier, My-Otome) and animation by A-1 Pictures (Black Butler, Fractale). Sound of the Sky's opening theme is composed by Yuki Kajiura (Noir, .hack//SIGN) and performed by Kalafina (Black Butler).


About SOUND OF THE SKY (Sora no Woto)


In a lonely corner of the world, on the edge of No Man's Land, sits Clocktower Fortress. It's home to the 1121st Platoon of the Helvetian Army, and their newest member is a 15-year-old volunteer named Kanata Sorami, who enlisted to learn how to play the bugle. When she was a child, Kanata was saved by a beautiful soldier and found inspiration in the clear, golden sound of her trumpet. From that day forward, Kanata decided music would be her life. As the other platoon members train her how to be a bugler and a soldier, Kanata's enduring optimism will inspire them to look for happiness and beauty, even in a world haunted by war.
Visit soundofthesky.rightstuf.com for more information about Sound of Sky (Sora no Woto).
------
Scott Green is editor and reporter for anime and manga at geek entertainment site Ain't It Cool News. Follow him on Twitter at @aicnanime.