Concept Book is set to be offered at the Comitia doujinshi event this weekend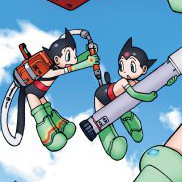 The "osamu moet moso" project, aiming to "extract and embody Akiba-like elements contained in Osamu Tezuka's works through the imaginations" is back with a new iteration of the now three-year-old blending of the works of the manga pioneer with moe. The 3.0 Concept Book is set to be offered at the Comitia doujinshi event this weekend.
Visitors to the TokyoBig Sight event who buy osamu moet moso goods will also get a Marvelous Melmo card illustrated by POP.
This one features:
Astro Boy cover by Mine Yoshizaki (Sgt. Frog)
Astro Boy illustration by POP
Shammy 1000 body pillow illustration by Wadarco (Fate/Extra CCC)
Phoenix: Sun Chapter manga by Sukune Inugami (Kashimashi: Girl Meets Girl)
Wonder 3 manga by Yoshito Asari (episode 2)
The Three-Eyed One manga by Babirii (episode 2)
Dust 8 manga by Enuo
Dororo manga by Sanami Suzuki (episode 2)
The book sells for 1575yen ($16) while the mini pillow illustrations will be going for 2100yen ($21.20).
Artists form the original exhibit included:
Akemi Takata

Eri Kamijyo

Haruhiko Mikimoto

Jyu Ayakura

KEI

Kamo

Mina Okazaki

Mine Yoshizaki

Mori Chack

Moyoko Anno

Narumi Kakinouchi

Narumi Kakinouchi

Noiji Ito

POP

Renji Murata

Takeshi Okazaki
Version 1.5 featured yuri/yaoi artist Lily Hoshino, Mine Yoshizaki(Sgt. Frog), Takashi Okazaki (Afro Samurai), and Haruhiko Mikimoto (Macross).
The version 2.0 Concept Book was offered at Comiket 82. Mine Yoshizaki drew the cover and poster. Miwa Shirow (Dogs) drew another poster - featuring Alabaster - the sport star turned criminal who declares war on hypocrites. Yoshitoo Asari (Lucha Lucha Manga) drew Wonder 3 - about an alien rabbit, horse and duck deciding if humanity should be exterminated for the benifit of the larger universe. Sanami Suzuki (Black Rock Shooter - Innocent Soul) drewTezuka's Three Eyed One and Dororo. Noizi Ito (illustrator on the Haruhi Suzumiya and Shakugan no Shana light novels) continued her involvement with osamu moet moso too.
-------
Scott Green is editor and reporter for anime and manga at geek entertainment site Ain't It Cool News. Follow him on Twitter at @aicnanime.