Long-awaited 2nd album will be released on June 24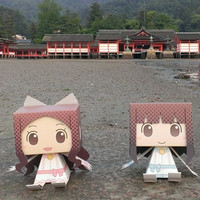 ClariS, popular anime/game song duo consisting of high school girls Clara and Alice, will release their highly anticipated second full album "SECOND STORY" in Japan on June 26th. The 4000-yen limited production edition of the album comes with a DVD features their PVs and TV CMs, and two Graphig paper dolls.
In commemoration of the release, their recently-launched official facebook page has begun a photo contest "Let's Go Out with ClariS Graphig!". The rule is simple, just go out and take a picture with the ClariS Graphig paper dolls, then post it on the official facebook page. A present will be given to the excellent photographers by ClariS. The staff of the page have already posted some sample photos. Do you want to try?
Graphig 246-247 ClariS (reunion ver.) [SECOND STORY]
"SECOND STORY" limited time/production edition jacket
At Itsukushima Shrine in Hiroshima
In Sapporo, Hokkaido
In Doutonbori, Osaka
In Nagoya, near Nagoya Castle
via: animate.TV
© SME Records,