Plus a bit on Japanese reaction of MLP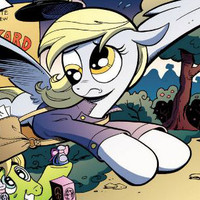 The announcement was made at March's Tokyo International Anime Fair that a My Little Pony: Friendship is Magic is being developed for Pucchigumi, a shoujo magazine that tends to host the manga branches of multimedia franchises. It's now been revealed that Akira Himekawa, the two woman art team best known for their work on Legend of Zelda manga, have been attached to the manga project/
Speaking of MLP, it's not new, but a tweet by animator Hiroyuki Kitakubo from late last fall is making the rounds and raising some eyebrows. The director on early loli anime Cream Lemon as well as Blood: The Lat Vampire, animator on Macross, Gunbuster, and animator Akira.
In the November Tweet he says "Japanese moe characters have a bad influence on American comics. My Little Pony: Friendship is Magic for example."
Attached to the Tweet was...