The story is about "the ultimate love of the brother and sister"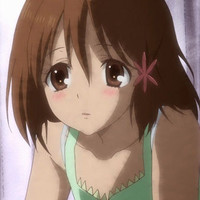 The official site for the 2014 winter TV anime pupa announced today that they will host a special screening event for the uncensored version of its first eight episodes at the Aeon Cinema Makuhari Shintoshin theater in Chiba Prefecture on December 21 in advance of the start of its TV broadcasting on January 9, 2014. Due to its incest and cannibalism-related contents, the broadcast version will be edited to some degree.
The event will have the original manga creator Sayaka Mogi, the director of the anime series Tomomi Mochizuki, the voice cast Nobunaga Shimazaki (Utsutsu Hasegawa who has the power of rapid cellular regeneration and feeds his sister with his own body), Ibuki Kido (Yume Hasegawa who transforms into a man-eating monster and has to eat her own brother's flesh to survive), and Kyoko Narumi (Maria who is a mysterious woman knows the secret of pupa). There is no age limit for the event.
2nd PV
1st PV
-Staff
Original: Sayaka Mogi "pupa" (Monthly Comic Earth Star series)
Director: Tomomi Mochizuki
Character Design: Maki Fujii
Music: Kayo Konishi ・ Yukio Kondo(MOKA ☆)
Animation Production: Studio DEEN
-Cast
Utsutsu Hasegawa (CV: Nobunaga Shimazaki)
Yume Hasegawa (CV: Ibuki kido)
Shiro Onijima (CV: Koji Yusa)
Maria (CV: Kyoko Narumi)
Sachiko Hasegawa(CV:Mamiko Noto)
Hotoki (CV:Kenjiro Tsuda)
Utsutsu (childhood) (CV:Mariya Ise)
Yuhei Arita (childhood) (CV:Shiori Mikami)
Arita Sisters (childhood) (CV:Yurika Kurosawa)
Source: pupa anime official site
© Sayaka Mogi/EARTH STAR Entertainment/pupa Production Committe