Need For Speed Rivals and Gran Turismo 6 serve as platforms for new car launches by Ford and BMW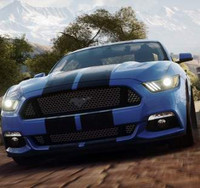 Most racing games serve a dual purpose these days: Provide a reasonable imitation of competitive driving while also serving as a marketing exercise for both the developer, publisher and any automakers that choose to license vehicles to a particular game franchise for the additional consumer attention the games generate outside of the typical "hardcore gamer". With the popularity of racing games at an all-time high, it stands to reason that auto makers would look to the games as a way to turn players into future customers.
The marketing angle has now been taken a step further, as both Ford and BMW have elected to launch their newest models for 2014-2015 in Gran Turismo 6 and EA's Need for Speed: Rivals respectively, with the 2014 M4 Coupé and the forthcoming 2015 Mustang making their debuts in the respective games months before dealers take delivery of inventory themselves.
While game-specific models and variants are nothing new to the above franchises, this is the first time automakers have virtually launched future models of cars that will be available for sale to the general public through two of the biggest racing game franchises on the market. The virtual launches will also mark the first time the general public will get to see, hear and "drive" the cars themselves.
The BMW M4 is available to all through a special event in Gran Turismo 6 now underway, while the 2015 Mustang is available as free DLC in Need for Speed Rivals starting today. Below, a gameplay video from Motor Trend magazine showcasing the new Mustang in Need for Speed Rivals and another below it recorded by Sony showcasing the M4 Coupé in GT6.
---
Humberto Saabedra is the Owner of AnimeNews.biz, Editor-in-Chief of PhoneNews.com and a part-time recording engineer. He can also be found musing on things (and Nico Robin) at @AnimeNewsdotbiz