Best known as the voice of Honoka Yukishiro/Cure White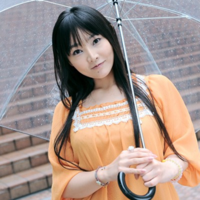 Popular anime voice actress Yukana (old screen name: Yukana Nogami) celebrates her 39th birthday on today January 6. She was born in Chiba Prefecture on January 6, 1975. While she was still a third grade high school student, she made her debut as a professional anime voice actress for Mirai Ozora, the protagonist character of the 1993 OVA Moldiver.
Even after 10 years since its first on-air, she is still recognized by general Japanese people as the voice of Honoka Yukishiro/Cure White in Futari wa PreCure (2004-2005) and its direct sequel Futawi wa PreCure Max Heart (2005-2006). In response to the audience's expectations, she came back as Honoka/Cure White with Yoko Honna (Nagisa Misumi/Cure Black) and Rie Tanaka (Hikari Kujou/Shiny Luminous) in the 2013 PreCure All Stars New Stage 2: Kokoro no Tomodachi film to support the latest PreCure teams.
Photo via Famitsu.com
On March 20, 2011, nine days after the catastrophic Great East Japan Earthquake, she posted a message
video as Teletha Testarossa (Full Metal Panic!) with the help of Shoji Gatoh (the original creator of FMP) and
Shiki Douji (the original illustrator of the novel) to the people who had fallen victim to disaster. I still cannot
see this video without crying....
Her famous anime characters:
Yuri Tanima/Angel Lily in Wedding Peach (1995)
Azusa Noyama in Azuki-chan (1995)
Teletha Testarossa in Full Metal Panic! series (1997-)
Miho Nosaka in Yu-Gi-Oh! (1998-)
Mika of Rabbit in Angel Tales (2001)
Honoka Yukishiro/Cure White in Futari wa PreCure (2004-)
Mashiro Kazahana in My-HIME (2004)
C.C. in CODE GEASS Lelouch of the Rebellion (2006)
Ai Nanasaki in Amagami SS (2010)
Cecilia Alcott in Infinite Stratos (2011)