She's due out this year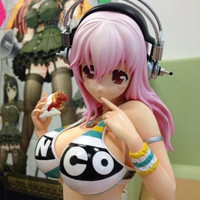 Super Sonico in a bikini is always cause for celebration. X-Plus has a new figure on the way, and she's taller than most. She also has her name stamped on interesting places. Have a look:
This Sonico measures in at 16.8 inches tall. She's made of soft vinyl, and she's du out in 2014. Do you need her for your collection? Do you have room on your shelf for her?
Via Plastikitty