Starts today at 12:45pm PST in select regions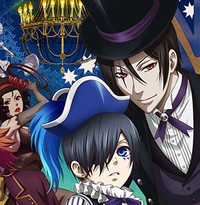 Sebastian and Ciel return to anime this summer, and Crunchyroll's got them in form of Black Butler: Book of Circus!
Black Butler: Book of Circus begins TODAY with episode 1 at 12:45pm Pacific Time for premium members, with free members able to watch one week later. Future episodes will be broadcast at the regular time of Thursdays at 12:30pm Pacific Time. More information can be found at http://www.crunchyroll.com/black-butler-book-of-circus.
Synopsis:
In Victorian London, the breathtaking performances of the Noah's Ark Circus have captured the attention of people all across the city. But the spell of magic and wonderment woven under the big top is not without consequences. Children have suddenly begun to vanish, and some suspect these mysterious performers are responsible. In an attempt to get to the bottom of these disturbing disappearances, the dashing duo of demon butler, Sebastian Michaelis, and his young master, Ciel Phantomhive, will infiltrate the circus and uncover whatever darkness may lie at its core!
Black Butler: Book of Circus will be available to Crunchyroll's audience in the following territories: South and Central America, UK/Ireland, Australia/New Zealand.