Saaya is due out in February.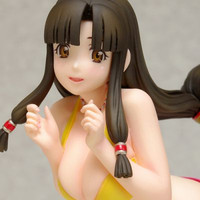 Gargantia fans, get ready: Wave is busy cranking out all the girls in their bikini wear, and the newest one to get painted and shown off for the internet is Saaya. Check her out in all her busty glory:
We've known she was on the way for a while now, but this is the first look at the finished figure (courtesy of Wave). Beach Queen Saaya is 1/10 scale, and due out in February for 10,000 yen - a little pricer than most, since she's a Beach Queen Premuim.