Animated by Asahi Production (Himegoto, Orenchi no Furo Jijou)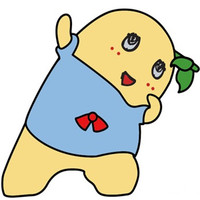 It is confirmed today that Funassyi, one of the most famous Japanese local mascot characters from Funabashi-city, Chiba Prefecture, will have its own TV anime series titled Funassyi no FunaFunaFuna Biyori from March 30. The short anime series will be aired daily from Monday to Friday in Nihon TV's morning show Sukkiri!!. The pear fairy will voice its animated character, alongside Lynn (Maya Kyodou in Sabagebu!) as Gressyi and Naoki Tatsuta (Job John in Mobile Suit Gundam) as Nashigami-sama.
Funassyi made its voice acting debut in the 3-minute short TV anime series Nyuru Nyuru!! Kakusen-kun in 2013, then made a guest appearance as an anime character in the 2014 film HappinessCharge PreCure! Ningyou no Kuni no Ballerina.
Main staff:
Director: Tomio Yamauchi (Psychic Force)
Scripts: Higashi Shimizu (Futari wa PreCure), Korie Tomonaga (Soreike! Anpanman)
Character designer: Hiroshi Shimizu (Michiko to Hatchin)
Sound director: Kisuke Koizumi
Music: Takatsugu Wakabayashi (JoJo's Bizarre Adventure: Stardust Crusaders theme song)
Anime production: Asahi Production (Himegoto, Orenchi no Furo Jijou)
Production: Funassyi no FunaFuna Biyori Team
Voice recordings are already started
3月30日から日テレスッキリ内でショートアニメ、ふなふなふな日和はじまるなっしー♪ヾ(。゜▽゜)ノ楽しみにしてなっしー♪ pic.twitter.com/TDJxk34byq

— ふなっしー (@funassyi) March 9, 2015
via: Crank-In
©Funassyi no FunaFuna Biyori Team