Theme park has attracted over 100,000 visiters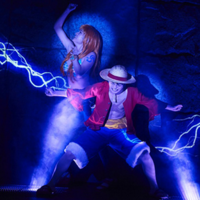 One of the well-received attractions at the Tokyo One Piece Tower theme park is the "Welcome to Tongari Mystery Tour" live show performed by the real actors on stage. It features an adventure in a mysterious cave in the Tongari island by the members of the Straw Hat Pirates: Luffy, Zoro, Nami, Usopp, Sanji, Chopper, Nico, Franky, and Brook. Audience can join the show with the strange stone "Kokoro Ishi" (Heart Stone) given at the entrance.
Tokyo One Piece Tower is located in Tokyo Tower, 333-metre-tall and the second tallest tower in Japan. It successfully attracted 100,000 visitors only in 48 days from its opening on March 13.
via: One Piece Tower official Twitter
© Eiichiro Oda/Shueisha, Fuji TV, Toei Animation